"Blacklisted: A Concert of Songs Made Famous by Blacklisted Artists" An American History Lesson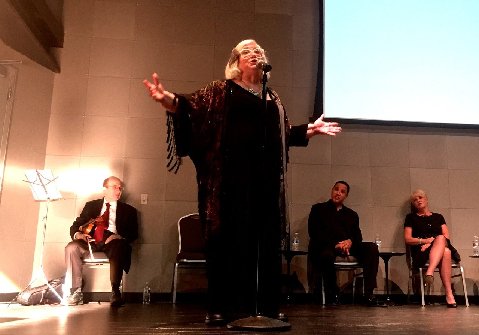 Reviewed by: Russell Goeltenbodt
Throughout history, the United States has managed to witness many politicians and their followers who had very narrow thinking and were bullies to push their own agenda. In 1950 Senator Joe McCarthy was a politician who thought that communists were residing in the United States. Therefore, he thought it was important to identify communists or people who had connections to communists in order to protect the United States. Therefore, anyone who had adverse opinions with the government or demonstrated a certain way of thinking through their art was targeted. People were called before the House Un-American Activities Committee (HUAAC).
If they were deemed a communist or had a connection with communist, or even a different way of thinking, they were blacklisted. This was true with the entertainment community especially Jewish movie writers and producers. This meant, writers could not share their stories, singers could not share their songs, and actors were not hired to act. Even though through the United States Constitution promises the right to speak, vote, and pray as you wish.
Blacklisted: "A Concert of Songs made famous by Blacklisted Artists" which debuted at the Holocaust Museum in Skokie, Illinois last Sunday afternoon, took a look at what wonderful music we would miss if particular singers and songwriters were not able to share their gifts. Singer, Songwriter, Producer Carla Gordon had a vision for this show, and her vision became an interesting and entertaining reality with "Blacklisted". Along with Carla Gordon, this SRO sold out performance featured Chicago's finest from the Chicago cabaret, and music community delightfully included Joan Curto, Robert Sims, Paul Motondo, Wayne Richards, Rabbi Barry Schecter, and Musical Director, Singer Beckie Menzie at the piano.
Carla told the story and highlighted just a few of these well known artists which included actors Judy Holliday, and Zero Mostel, composers Leonard Bernstein, Marc Blitzstein, Elmer Bernstein and Yip Harburg, singers Hazel Scott, Lena Horne, and Paul Robeson, and writer Studs Terkel. Carla's story was compelling, adding bits of humor. Carla's message, "Could you imagine what would happen if the blacklist was not lifted, and we were deprived the talents from these artists?" Thankfully, the original artists were able to continue their talents after their blacklist was lifted.
The singers joining Carla on stage continued Carla's story with their music. The most notable performance was Robert Sims singing "Ol Man River emulating singer Paul Robeson's Show Boat performance. Robert's wonderful bass voice recreated Robeson's magical moment in Showboat where the words "I'll keep laughing instead of cryin and I'll keep fightin instead of dying" brought meaning to what many of the blacklisted artists experienced. Robert's velvety voice also sang Maria from Leonard Bernstein's West Side Story. Paul Motondo crooned Old Devil Moon and Somewhere Over the Rainbow by songwriter Yip Harburg. Paul's interpretation of Somewhere Over the Rainbow was wonderful mixing speaking and singing some of the lyrics which made the song especially meaningful. Joan Curto gave a moving performance with Lena Horne's Stormy Weather and honored Judy Holliday with Just in Time. Beckie Menzie told the story of Hazel Scott how she was blacklisted and was forced to move overseas to perform. Beckie then sang and vamped Honey Suckle Rose with her brilliant jazz artistry. Later Beckie honored writer Marc Blitzstein with I Wish It So, a beautiful song which Beckie's voice soared and left the audience with emotion.
The highlight of the afternoon was singer, composer Wayne Richards. Wayne started with a story about Charlie Chaplin and honored him with Smile with Rabbi Barry Schecter accompanying Wayne on the violin. Wayne played the piano featuring a movie music medley by Elmer Bernstein which one of his famous scores was from Thoroughly Modern Millie.
Carla joined Wayne on stage creating a magical chemistry honoring Zero Mostel with Do You Love Me from Fiddler on The Roof. The songwriting team of Carla Gordon and Wayne Richards did not disappoint with their new composition, Prayer for America brought as moving climax to the afternoon's performance. This song illustrated that the true America is our history and our families who make dreams a reality.
After a story where gospel singer Mahalia Jackson supported Studs Terkel's decision not to name any known communists by continuing with her show after telling television producers "If Studs goes, I go. Continuing with the heart of the performance, the entire cast honored Mahalia Jackson and sang He's Got the Whole World in His Hands, inviting the audience to join them. The finale ended with God Bless America, which brought a moving conclusion to the Blacklisted performance, along with a standing ovation.
Carla Gordon's message was that Joe McCarthy and J. Edgar Hoover were bullies in 1950. It is unfortunate that some of our current political representation also has its share of bullies. Hopefully, in 2016 we will not witness the ignorance and prejudice from 1950. In the words from Prayer for America, "Freedom is a gift for everyone with a prayer for America. Hold onto the dreams that others deny. Freedom is yours Freedom to fly".
I highly recommend Blacklisted. Carla Gordon truly put her heart and soul into this wonderful story and performance. There is another sold out performance on February 28 at the Skokie Theatre. So stay tuned, future performances are being planned. Don't miss revisiting this moment in history!
Encore performance of Blacklisted on April 10 at 2 p.m. Admission $25.00 at the Skokie Theatre 7924 N. Lincoln Avenue Skokie. For tickets call 847-677-7781 or on line at www.skokietheatre.org