School of Theatre at Florida State University Presents CABARET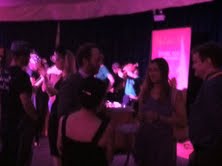 The School of Theatre at Florida State University presents Cabaret, written by Joe Masteroff with lyrics by Fred Ebb and music by John Kander. Cabaret will be directed by School of Theatre faculty member Tom Ossowski, and will feature such beloved musical theatre classics as Willkommen, Cabaret, Married, and Money.
The cast welcomes you to the famous burlesque Kit Kat Klub, located in Berlin as the 1920s are drawing to a close. The world outside is becoming increasingly unstable as the Nazi Party gains power, but this debaucherous and colorful crew continues to take the stage nightly, encouraging their clientele, and themselves, to leave their worries at the door and forget what is outside.
Director Tom Ossowski is thrilled to be presenting one of the most beloved and often revived shows in the American Musical Theatre canon. He comments on the authenticity and appeal of his artistic approach to this production, saying, "It is a story that everyone can relate to – we all have hopes and dreams, but we all struggle with denial and illusion."
This production of Cabaret features Music Theatre students Kevin Nietzel (The Emcee), Christiani Pitts (Sally Bowles), and Jonathan Tilkin (Cliff Bradshaw). Cabaret highlights scenic design by guest artist Tony Purvis, costume design by MFA Costume Design candidate Bryant Villasana, and lighting design by School of Theatre Lighting Supervisor and MFA Technical Production Candidate, Paul Anton.
Cabaret made its Broadway debut on November 20, 1966, starring Joel Grey as The Emcee. Since 1966, Cabaret has gone through three revivals, the most recent opening in April 2014, starring Alan Cumming as The Emcee andMichelle Williams as Sally Bowles.
Don't miss The School of Theatre's production of Cabaret playing at the Lab Theatre at Florida State University November 7 – 16!
For additional media, information, or interview opportunities, contact: Ashley Wright – 850.644.6488 or aw13d@my.fsu.edu.
Recommended age: 16+; Contains material that may be inappropriate for audiences under the age of 16.
Tickets: Tickets for Cabaret are $10-20, plus applicable fees, and are subject to availability. For information on the purchase of tickets, discounts, and student tickets, please visit http://tickets.fsu.edu/General-Information. Tickets may be purchased online at tickets.fsu.edu, by phone at 850.644.6500, or at the Fine Arts Ticket Office located in the Fine Arts Building at 540 West Call Street, Tallahassee, FL 32306.