ORLANDO PHILHARMONIC'S OPERA SERIES PRESENTS BERNSTEIN'S CANDIDE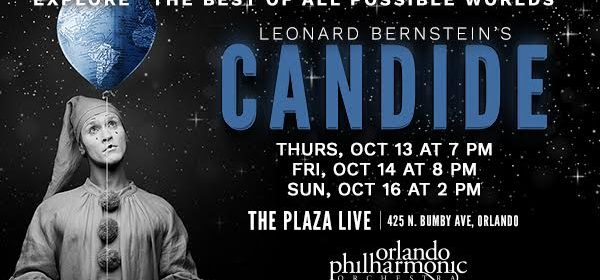 The Orlando Philharmonic Orchestra presents Leonard Bernstein's Candide, the first operetta in the Opera Series on October 13, 14, and 16. Bernstein's zany operetta takes Candide on a comic adventure around the world. Performances will be at The Plaza Live Theater, 425 N. Bumby Ave., Orlando, Florida.
From the team that brought you last season's hit production of The Magic Flute, join Maestro Eric Jacobsen and a stellar cast for Bernstein's operetta, a fully-costumed production sung in English with supertitles. Voltaire's biting satire of innocence and optimism with Leonard Bernstein's witty, TONY-award winning score, Candide is the story a young man (Candide) who sets off with his friends to find the true meaning of life. Their exploits along the way, including separation, war, mistaken identity, kidnapping, murder, and a shipwreck, cause them all to question their philosophy that "all is for the best." In the end, optimism remains, but good sense prevails.
"In this production, Voltaire's best of all possible worlds becomes the greatest show on Earth, and a modern circus provides a new context in which to explore the humor in violence, the hope in tragedy, our fantasies and our fear" said Alison Moritz, Stage Director.
Music Director Eric Jacobsen and the Orlando Philharmonic Orchestra will be joined by Alison Moritz as Stage Director, John Heginbotham as Choreographer, featuring Miles Mykkanen as Candide, Evan Jones as Pangloss, Sharleen Joynt as Cuégonde, Alex Mansoori as Vanderdendur and Samantha Barnes Daniel as Paquette.
Single tickets are also available online at orlandophil.org, by calling (407) 770-0071, or in person at the Box Office, located at The Plaza Live (425 N. Bumby Avenue, Orlando). The Box Office is open Monday through Friday, 10 a.m. to 4 p.m. (Ticket prices subject to change.)
Now in its 24th season, The Orlando Philharmonic is Central Florida's professional orchestra, comprised of accomplished musicians recruited from around the world. Presenting over 125 events each year, the orchestra provides captivating musical experiences and education programs to people of all ages, and is committed to building rich, sustainable future for symphonic music in Central Florida. Learn more at OrlandoPhil.org.
Artists
Eric Jacobsen is hailed by The New York Times as "an interpretive dynamo," conductor and cellist and has built a reputation for engaging audiences with innovative and collaborative projects. Following an international search, Eric Jacobsen was appointed Music Director of the Orlando Philharmonic Orchestra in the 2015-2016 Season.
Alison Moritz recent productions have been lauded as "about as gorgeous and accessible as any opera anywhere" (The Commercial Appeal), and her work has been praised for its "incredible economy of resources, lean production design, and eye for jest and banter" by The Orlando Examiner.
John Heginbotham is originally from Anchorage, Alaska, JOHN HEGINBOTHAM is a Brooklyn-based choreographer, performer, and teacher. He graduated from The Juilliard School in 1993 with a BFA in Dance, and was awarded the Martha Hill Prize for Sustained Achievement in Dance.
Miles Mykkanen has garnered recognition on the world's concert and operatic stages for his "focused, full-voiced tenor" (The New York Times).  Of his performances in Eugene Onegin at the Juilliard School, Opera News wrote, "Mykkanen was a knockout as Lensky. The lyric intensity of his singing made each moment count, and the duel- scene aria was a stretch of sheer vocal gold.