Marriott's "MARY POPPINS" It's Still a Lovely Holiday with Mary!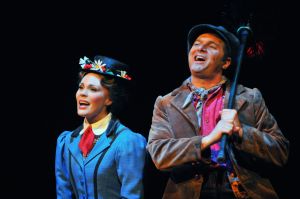 he Marriott Lincolnshire Theater had a winning 2013 season with "Now and Forever, The Music of Andrew Lloyd Webber,  "South Pacific", My One and Only, I Love Your Perfect, Now Change, and  ending with 9-5.  The Marriott Lincolnshire Theater begins its 2014 season with the magical production of Mary Poppins. Executive Producer Terry James known for the many excellent productions at Marriott Lincolnshire Theater, has produced yet another hit and hopefully another winning season.
When remembering the Disney movie when I was 6 years old, I remember all of the magic and beautiful animation. When I saw the Broadway in Chicago version a few years ago, the stage version was big, fantastic, and had elaborate sets complete with some of the movie's animated moments. With the Marriott Lincolnshire Theater stage in the round, nine-time Jeff award winner, Director Gary Griffin decided to go in another direction. Instead of creating the elaborate sets that many of the other shows at the Marriott Lincolnshire Theater are known, Gary Griffin opted to use 8 video screens set in the round to create the animation around the stage and use very simple sets to create each scene.  I have to admit during the first 15 minutes of the production, I was a little disappointed and had the feeling that the production would fall flat. However, after witnessing the magic of the actors and dancers on stage, I realized that Griffin's motivation was to have the audience focus on the actors, wonderful choreography, and most importantly their imagination. Being that Mary Poppins is one of our greatest childhood memories, what is better than creating a production that you remember the story and the characters rather than focusing on scenery? In my opinion, I believe Gary Griffin's creation of Mary Poppins works in most parts of the show. As you know, I have often commented on how some of Marriott Lincolnshire Theater's productions tend to create a blocked viewing to some of the audience due to elaborate sets.  The minimal stage with the video screens mostly resolved the problem.  However, there needs to be a few adjustments to this concept for enjoying a wonderful production. The thing that fell short with the video screens was that some of the animation could have been a tad more interesting, better accenting some of the scenes. In this case the video screens were not used to their full potential. Even though, they created a beautiful picture for Feed the Birds or Let's Go Fly a Kite, some of the other scenes fell flat especially with the cartoon items in the Bank's home. Therefore, some additional creativity is a missed opportunity.
All that being said, the portrayal of Mary Poppins by multi Jeff award winner Summer Naomi Smart was magical. Summer who was in a national tour of Wicked, The Light at the Piazza at  the Marriott Theater, and Sweet Charity at Drury Lane Oakbrook. Summer's wonderful voice and sweet acting ability mirrored a young Julie Andrews.  Her casting for Mary Poppins was right on the money. Summer took control of the stage and brilliantly led the production to a high level of entertainment. Bernie Yvon (Bert)  who appeared on Broadway and national tours of Ragtime, The Music Man, Hairspray, Joseph, and appeared in Beauty and the Beast at the Marriott Theater. Bernie's depiction as Bert, the artist and chimney sweep was light and fun-loving that created the warmth of Bert who was wonderful to the children and idolized Mary Poppins. Rod Thomas, (George Banks) is no stranger to Marriott Theater appearing in White Christmas, For the Boys, Guys and Dolls, Sunset Boulevard, and Beauty and the Beast. Rod most recently appeared as Dan at Drury Lane Oakbrook in Next to Normal. Rod as the father, George Banks was convincing as the workaholic husband and father who was so consumed with his work, that he had no idea of how to interact or love his family. Rod gave a believable performance along with some comic relief in showing his over the top micro-managing behavior. He then demonstrated George's ability to learn that his family's happiness is more important than his work. Mary Pippins showed George how to let go through the love for his children, Jane and Michael. Susan Moniz,(Winifred Banks) last appeared in Marriott Theater's production of 9-5, and Now and Forever The Music of Andrew Lloyd Weber, along with many other Chicago credits. Susan was excellent at portraying the frustrated wife and mother whose light personality was not good at raising her children or provided her the ability to communicate with her character Winifred's husband George. Susan's portrayal was wonderful showing her transforming from a meek wife and mother to a strong in charge woman.
The true stars  of the Marriott Theater's production of Mary Poppins are Madison Glora Olszewski, (Jane Banks); and Johnny Rabe, (Michael Banks). These two children made their parts very believable and sang their hearts out. Sometimes when you see children acting a part, they are simply reciting their lines, and follow the choreography and stage direction to the best they can. I will have to say that Madison and Johnny became Jane and Michael Banks. They are so natural on stage and their acting and movement made their roles very believable and extremely enjoyable. The entire cast really created a very connected production. The supporting cast included, Paula Scrofano, (Mrs. Brill), John Rigor, (Bank Chairman, Admiral Boom), and Rebecca Finnegan, (Bird Woman and Miss Andrew) whose strong performance of both characters created a memorable performance.  Other supporting cast included; Matthew Crowle, Johanna McKinzie Miller, William Carlos Angula, Lauren Blane, Jaclyn Burch, Jameson Cooper, Devin DeSantis, Raymond Interior, Ericka Mac, Adam Rogers, Sam Rogers, Amanda Tanguay, Brandi Wooten, and Melissa Zaremba. The entire cast sang and danced wonderfully creating the magic of this production where the discussion of scenery is unimportant. It is this vision that creates the imagination for the audience.
Along with Terry James as Executive Producer, and Gary Griffin as Director is Andy Hite as Lead Artistic Director, and Aaron Thielen as Artistic Director. Choreography was expertly directed by Alex Sanchez, and Musical Direction is by Michael Mahler. Set designs are by Tom Ryan, Projection Design by Mike Tutaj, Lighting by Diane Ferry Willliams, Sound by Bob Gilmartin, and Costume Design is once again designed by the great workmanship of Nancy Missimi.  The costumes were beautiful. The Marriott Theater Orchestra is conducted by musical supervisor Patti Garwood.
On another note, I am not certain if some of the rewriting of the script was necessary. I really have to question some of the rewrites to the original story. When a story is as well known as a child hood memory, I don't know if it is a good idea to change some of the elements of the script where it is highly noticed by the audience. One particular part was the kitchen scene, where Michael and Jane cause havoc in the kitchen prior to their mother's tea party. Mary corrects the problem by giving the children a spoon full of sugar. In the original story, the children were lethargic and the scene was set in their bedroom. The spoon full of sugar made much more sense in that scene. I really don't feel that the kitchen scene was necessary, it led to a complication to the original story and it was noticed. Another missed part from the movie version of the original story is a robin is singing to Mary Poppins, and Mary is mimicking the robin's song. This rewrite is unfortunate because it was a very warm moment in the movie and it was noticeably missed. Additionally, Mary Poppins walking on and off stage was a disappointment. Considering the limited space, there still could have been a creative way to have Mary Poppins make a more appropriate entrance, rather than entering in the conventional way. However, even with some of the adjustments regarding the video screens, Mary Poppin's entrance, and the rewrites of the story, this is still an enjoyable production.
Therefore, I would still highly recommend the Marriott Lincolnshire Theater's production of Mary Poppins. I believe that some of the production issues can be corrected or even overlooked, Mary Poppins is still a wonderful experience for young and old alike.   My favorite parts  of this production is the park scene with "It's a Jolly Holiday with Mary" and of course the chimney sweep scene with "Step in Time", both were expertly choreographed and danced by a wonderful cast.  Alex Sanchez's choreography was absolutely amazing and brought a lot of energy to this wonderful show. The voices and the music direction by Michael Mahler were very tight and well blended, creating a beautiful musical experience. With Mary Poppins appearing through the holidays, it is truly a treat for the entire family. Therefore, Mary Poppins is still SUPERCALIFRAGILISTICEXPIALADOCIOUS!!!!!!!!!!
Mary Poppins at the Marriott Lincolnshire Theater is appearing through January 5. The performance schedule is as follows:
Wednesdays; 1:00 p.m. and 8:00 p.m. Thursdays and Fridays; 8:00p.m. Saturdays; 4:30p.m. and 8:00 p.m. Sundays; 1:00 p.m. and 5:00p.m.  From December 26-January 5 there will be a family friendly holiday schedule. To reserve tickets call the Box Office at 847-634-0200, or visit www.MarriottTheater.com.  For calendar information visit www.TheatreInChicago.com