Chicago Shakespeare Theatre's Education Department Receives Prestigious Award From Folger Shakespeare Library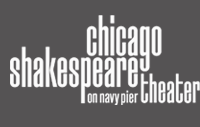 Chicago Shakespeare Theater (CST) announced today that the prestigious Folger Shakespeare Library in Washington, DC, home to the world's largest and finest collection of Shakespeare materials, will present CST's Education Department with the Shakespeare Steward Award. Inaugurated in 2007, the Folger Shakespeare Steward Award is presented annually to a person or organization for innovative teaching of Shakespeare in American classrooms. Chicago Shakespeare Theater will be the first theater to receive this prestigious award.
The Folger Shakespeare Library will present the award to Chicago Shakespeare Theater on Friday, November 2, prior to a performance of CPS Shakespeare! Hamlet. CST Director of Education Marilyn Halperin will accept the award on behalf of Chicago Shakespeare and be joined by Chicago Public Schools Chief Executive Officer, Jean-Claude Brizard. CPS Shakespeare!, one of several programs offered under the umbrella of CST's arts-in-education program Team Shakespeare, brings together a citywide cast of Chicago Public Schools high school students and their teachers to stage an adapted Shakespeare production in CST's Courtyard Theater each fall. The award presentation comes just one year after Folger representatives were impressed by the CPS Shakespeare! performance at last year's National Council of Teachers of English (NCTE) conference which attracted educators from around the country to Chicago.
"We are pleased to present this award in recognition of Chicago Shakespeare's work with Chicago Public Schools, where 40,000 students are introduced to Shakespeare's work annually and thousands of teachers are offered free professional development workshops," said Folger Shakespeare Library Director of Education Robert Young.
"It is an honor to accept this award on behalf of Chicago Shakespeare Theater," said Ms. Halperin. "We are proud to be the first arts organization to receive this honor, and we are especially proud of our partnership and ongoing work with the Chicago Public Schools."
Chicago Shakespeare's Team Shakespeare was established in 1991 and has served more than 1 million students and teachers—making CST one of the nation's largest providers of performing arts-in-education theater programming. As part of CST's strong and continuing commitment to Chicago Public Schools, the Theater has developed two successful programs targeting at-risk youth: Bard Core and CPS Shakespeare!. Bard Core, a professional development seminar offered annually to CPS teachers, explores how the skills of theater practitioners link directly to best practices in literacy, offering practical reading strategies and exercises for CPS students. Throughout the year, free weekend workshops are offered to teachers looking to innovate their lesson plans, with an upcoming Chicago Shakespeare production used as a central touchstone.
Additionally, CST reserves nearly 100 professional Shakespeare matinees for student audiences—and the Theater's annual Short Shakespeare!, an abridged production of a Shakespeare classic, conducts a five-week tour each spring to urban, suburban and rural schools throughout the Midwest. Reaching 40,000 students and teachers annually, Team Shakespeare is part of CST's commitment to lifelong learning, introducing Shakespeare's legacy to a new generation.
For more information on Chicago Shakespeare's arts-in-education programs, please visitwww.chicagoshakes.com.
###
About Chicago Shakespeare Theater
Chicago Shakespeare Theater (CST) is a leading international theater company, known for vibrant productions that reflect Shakespeare's genius for intricate storytelling, musicality of language and depth of feeling for the human condition. Recipient of the 2008 Regional Theatre Tony Award, Chicago Shakespeare's work has been recognized internationally with three of London's prestigious Laurence Olivier Awards, and by the Chicago theater community with 62 Joseph Jefferson Awards for Artistic Excellence. Under the leadership of Artistic Director Barbara Gaines and Executive Director Criss Henderson, CST is dedicated to producing extraordinary classic productions, new works and family fare; unlocking Shakespeare's work for educators and students; and serving as Chicago's cultural ambassador through its World's Stage Series. At its permanent, state-of-the-art facility on Navy Pier, CST houses two intimate theater spaces: the 500-seat Jentes Family Courtyard Theater and the 200-seat Carl and Marilynn Thoma Theater Upstairs at Chicago Shakespeare.
About Folger Shakespeare Library
Folger Shakespeare Library is home to the world's largest and finest collection of Shakespeare materials and to major collections of other rare Renaissance books, manuscripts, and works of art, the Folger serves a wide audience of researchers, visitors, teachers, students, families, and theater- and concert-goers.
The Folger is a world-renowned research center on Shakespeare and on the early modern age in the West. Its conservation lab is a leading innovator in the preservation of rare materials. Its well-known public programs include plays, concerts, literary readings, family activities, and exhibitions, as well as numerous K-12 and college programs for students and teachers. Advanced scholars participate in a variety of Folger Institute seminars and colloquia.
The Folger also publishes the illustrated, completely re-edited Folger Editions of Shakespeare's plays, award-winning exhibition catalogs, and the journal Shakespeare Quarterly. The Folger opened in 1932 as a gift to the American nation from Henry Clay Folger and his wife Emily Jordan Folger. It is administered by a Board of Governors under the auspices of Amherst College, Henry Folger's alma mater.