SHOWBIZ NATION LIVE! Interview with "Heartbreak Hotel's" ERIN BURNISTON
ERIN BURNISTON discusses her role as Elvis Presley's high school sweetheart in the new musical HEARTBREAK HOTEL, a prequel to MILLION DOLLAR QUARTET that details the King of Rock and Roll's raise to fame. HEARTBREAK HOTEL will ignite the stage of the Broadway Playhouse at Water Tower Place (175 E. Chestnut) beginning June 30, 2018.
SHOWBIZ NATION LIVE! Interview with "Heartbreak Hotel's" ERIN BURNISTON from Showbiz Chicago on Vimeo.
ERIN BURNISTON (Dixie Locke): National Tour: Spring Awakening. Regional highlights: Heartbreak Hotel (Dixie Locke, Ogunquit Playhouse), Gypsy (June, Chicago Shakespeare Theater), La Cage Aux Folles (Anne, Goodspeed Opera House), Somewhere In Time (Young Laura, Portland Center Stage), Spring Awakening (Wendla, Media Theater). TV: Blue Bloods. BFA Music Theater, Elon University.
Broadway In Chicago, the producers of HEARTBREAK HOTEL, and Authentic Brands Group(ABG), owner of Elvis Presley Enterprises today, are delighted to announce the full casting for HEARTBREAK HOTEL, amusical premiere that will ignite the stage of the Broadway Playhouse at Water Tower Place (175 E. Chestnut) beginningJune 30, 2018.
Chicago's 'King of Rock and Roll' will be Eddie Clendening who originated the role of Elvis in the acclaimed production of HEARTBREAK HOTEL at the Ogunquit Playhouse. Broadway World called Clendening's performance at the Ogunquit "spectacular." The Portland Press Herald says, "Clendening channels Elvis's unforgettable vocals with an uncanniness that brings thrilling goose bumps…" and the Boston Post Gazette hails, "[Clendening] is able to rock out with the raw energy of Presley while always retaining that shyness that made him so charming."
Chicago's cast will include Jerry Kernion as Colonel Tom Parker, Matt McKenzie as Sam Phillips, Geno Henderson as Jackie Wilson, BB King, Ike Turner and others, Matt Codina as Scotty Moore, Colte Julian as Dewey Phillips, Zach Lentino as Bill Black, Jamie Pittle as DJ Fontana/Drums, Erin Burniston as Dixie Locke, Darcy Jo Wood as Marion Keisker, Katherine Lee Bourné as Rosetta Tharpe and others, Takesha Meshé Kizart as Ruth Brown and others, Andrea Collier as Sally Wilbourn and others, Alicia McCracken Morgan as Gladys/ensemble, and Chuckie Benson, Tommy Malouf and Briana Bower as understudies/swings.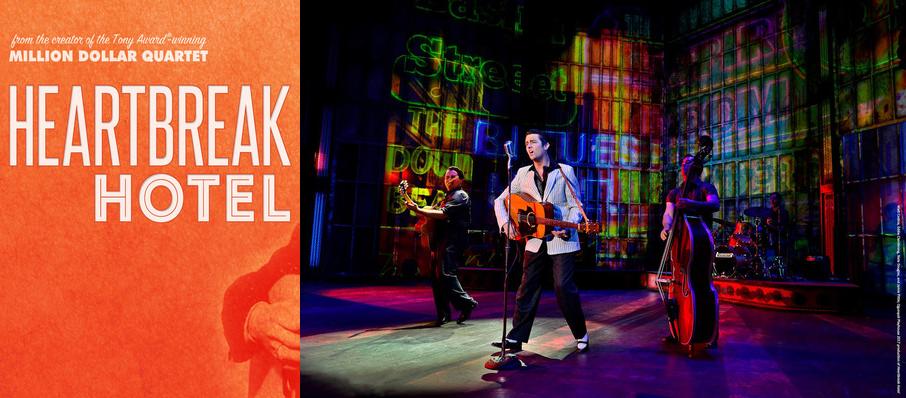 HEARTBREAK HOTEL is written and directed by Floyd Mutrux (Million Dollar Quartet) whose screenwriting and directorial credits include American Hot Wax, The Untouchables, Urban Cowboy, Up In Smoke, American Me, Ford Fairlane, Blood In Blood Out, Mulholland Falls, and Hillside Strangler. The show's creative team will include Birgitte Bjorum (Choreography), Adam Koch (Scenic Design), Jason Lyons (Lighting Design), Drew Levy (Sound Design) and Daniel Brodie (Projection Design), John Bannister and Keith Harrison (Orchestrations and Arrangements) and Tom Vendafreddo (Music Direction).
HEARTBREAK HOTEL follows the tender story of Elvis Presley in the early years of his career as he and Sam Phillips create the music that will forever change their lives. As Elvis's career skyrockets, both lifting and shattering the lives of
those he loves, a secret love story is revealed, a betrayal is discovered, and "Colonel" Tom Parker changes the course of history, all in just 18 short months.
This brand new musical features hit songs from the King himself as well as the legends who influenced his iconic music, with chart-toppers including "Blue Suede Shoes," "Tutti Frutti," "That's All Right," "Shake, Rattle and Roll," and, of
course, "Heartbreak Hotel." This is where the story begins… "take a walk down lonely street."
"We are thrilled to debut this amazing cast," said Producer Scott Pris and of Robbins Lane Entertainment. "This production will feature cast members who have been with the show from the beginning, such as our original Elvis, in addition to unbelievable talent from Chicago. HEARTBREAK HOTEL is ready to rock this town!"
"For those who long for another trip down memory lane with Elvis, for those that want to recreate the excitement of Million Dollar Quartet, and for those that want to dance in their seats – don't miss this show!" Eileen LaCario, Vice President of Broadway In Chicago said.
FULL PERFORMANCE SCHEDULE TICKET INFORMATION
Individual tickets for HEARTBREAK HOTEL at the Broadway Playhouse at Water Tower Place (175 E. Chestnut) are now on sale and range from $35-$75 with a select number of premium seats. Tickets are available now for groups of 10 or more by calling Broadway In Chicago Group Sales at (312) 977-1710 or emailing [email protected] For more information, visit www.BroadwayInChicago.com.
ABOUT BROADWAY IN CHICAGO
Broadway In Chicago was created in July 2000 and over the past 17 years has grown to be one of the largest commercial touring homes in the country. A Nederlander Presentation, Broadway In Chicago lights up the Chicago Theater District entertaining over 1.7 million people annually in five theatres. Broadway In Chicago presents a full range of entertainment, including musicals and plays, on the stages of five of the finest theatres in Chicago's Loop including the Cadillac Palace Theatre, CIBC Theatre, Oriental Theatre, and just off the Magnificent Mile, the Broadway Playhouse at Water Tower Place and presenting Broadway shows at The Auditorium Theatre of Roosevelt University. For more information, visit www.BroadwayInChicago.com. Facebook @BroadwayInChicago ● Twitter @broadwaychicago ● Instagram @broadwayinchicago ● #broadwayinchicago
ABOUT THE PRODUCERS HEARTBREAK HOTEL is produced by Robbins Lane Entertainment, Temple Dog Productions, Big Block Media Holdings, Michael Speyer and Bernie Abrams, Terry Schnuck, Stefany Bergson, Judith Borelli and Emilio Borelli, Howard Weissman and Howard Goldenfarb and Dot Dot Dot Productions, LLC. ABOUT AUTHENTIC BRANDS GROUP Authentic Brands Group (ABG) is a brand development, marketing and entertainment company, and the owner of Elvis Presley Enterprises, LLC in partnership with the Presley family. Headquartered in New York City, ABG owns, manages, and builds the long-term value a global portfolio of lifestyle, celebrity and entertainment brands. Our brands span a global retail footprint of more than 2,300 doors across luxury, specialty, department stores, shop-in-shops, ecommerce, mid-tier, and mass channels. ABG is committed to transforming brands by delivering compelling product, content, business, and immersive brand experiences. We create and activate original marketing strategies to drive the success of our brands across all consumer touchpoints, platforms, and emerging media. ABG's global portfolio of iconic and worldrenowned brands includes Marilyn Monroe®, Elvis Presley®, Muhammad Ali®, Shaquille O'Neal®, Dr. J®, Greg Norman®, Neil Lane®, Thalia®, Michael Jackson® (managed brand), Aéropostale®, Juicy Couture®, Jones New York®, Herve Leger®, Judith Leiber®, Frederick's of Hollywood®, Frye®, Adrienne Vittadini®, Taryn Rose®, Misook®, Hickey Freeman®, Hart Schaffner Marx®, Spyder®, Tretorn®, Tapout®, Prince®, Airwalk®, Vision Street Wear®, Above The Rim®, and Hind®. abgnyc.com.
ABOUT KGM THEATRICAL
KGM Theatrical is a New York City based theatrical general management firm representing live entertainment globally. Credits include: Puffs (Off-Broadway), Rock of Ages (Broadway), Fela! (Broadway, Tours), Reasons to Be Pretty (Broadway), The 39 Steps (Broadway), The Homecoming (Broadway), Talk Radio (Broadway), Heathers (Off-Broadway), Altar Boyz (Off-Broadway), and many more. kgmtheatrical.com