Elements Contemporary Ballet & Aerial Dance Chicago's World Premiere AYA, AN AERIAL BALLET Oct. 10 & 17 @ Athenaeum Theatre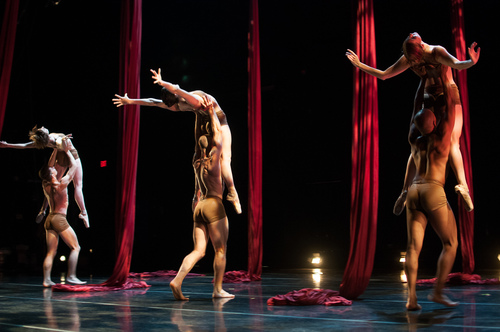 AYA, an evening-length aerial ballet in three acts, combines the soaring precision of aerial dance with the meticulous timing and elegance of contemporary ballet.
AYA expands on Surge, the first collaboration between Elements Contemporary Ballet and Aerial Dance Chicago, which premiered to sold-out crowds at the North Shore Center for the Performing Arts in July 2014. Chicago Tribune dance critic Laura Molzahn called Surge "Magnificent…a jam-packed visual wonder [that is] seamlessly thrilling."
A joint choreographic project of Elements Contemporary Ballet's Mike Gosney and Joseph Caruana and Aerial Dance Chicago's Chloe Jensen and Karen Fisher Doyle, AYA's narrative constellates around a giant tree, which spans from mysterious subterranean depths to the distant sky. Made entirely from suspended aerial fabrics which are creatively woven and then manipulated by the dancers, the tree centers AYA's story of life cycles, the tension between personal solitude and social engagement, and the struggle to find belonging.
The hanging aerial silks in AYA evoke tree vines, connecting the dancers to the tree's wisdom and life force. ADC's Chloe Jensen performs as the central character of the piece who begins aloft among the aerial silks, exalted but alone. But as the dance unfolds, she mobilizes and frees herself, eventually connecting to other dancers at the base of the giant tree. Through various conflicts and connections, symbolized by the duets and repertory pieces of ADC and Elements, she finds her place. AYA culminates in both dance companies performing a celebration of the surge of life flowing through the tree vines to earth and all its inhabitants.
Says Mike Gosney, Artistic Director of Elements Contemporary Ballet:
                "AYA tells the story of all of us, through many relatable yet provocative themes. It follows a central character as she literally flies through different worlds on a personal journey, much like Alice flying through her wonderland. The visuals of this show will be spectacular! Both Elements and Aerial Dance Chicago have what I call a 'super-human' aesthetic. When we share the stage, it can be overwhelming in the most exciting of ways."
Says Chloe Jensen, Creative Director of Aerial Dance Chicago: 
"The amazing similarity between the companies might be that both have a vision to make dancers soar. Elements consists of ballet dancers that are at once powerfully grounded yet also aim to move as light as air and as fluid as water. ADC dancers, rising and levitating within the medium of airborne dance, find surrender and also a sense of grounding, but within the poetry of suspended bodies. In my mind, AYA is a chance to find the delicate place where these two amazing art forms unite."
The aerial silks also echo the myth of the red string of fate, tying the dancers to the legacy of the tree of life and to each other. According to this Chinese-origin story (since adopted by Japanese storytellers and persisting into contemporary manga), the gods tie an invisible red cord connecting two people who are destined to meet at some point and help each other. The two people connected by the red thread are destined lovers, regardless of place, time, or circumstances. This magical cord may stretch or tangle, but never breaks.
Says Karen Fisher-Doyle, Artistic Director of Aerial Dance Chicago:
"The inspiration for the work (AYA) grew as we discussed the old Chinese proverb of the Red String of Fate. We believed, like our connection through "The Trees", that the red thread not only mirrored the work we'd created but also represented the artistic connection between the companies. If our souls had awakened through Surge, then in AYA they would be taking a journey."   
Says Joseph Caruana, Managing Director of Elements Contemporary Ballet: 
"The story of AYA is built around connection – with a friend, with a group, with the inner self, and ultimately with the divine. Our main character, hanging from an aerial silk and staring down at the world, is kept separate from the dancers below her. It's this distance, this gap between where she is and where she wants to be, that sets up an odyssey in which she discovers that she, like so many of us, has possibly been looking the wrong way."
The themes in AYA develop over three acts. In Act One, ADC and Elements perform separate choreography that eventually overlaps, evoking the main character's conscious life. The second act features the tree of woven black silks that the dancers climb up, evoking an alternate universe: the main character's hallucinatory subconscious in which one of the dancers has become the tree. Here, a loose red silk is introduced and used to cocoon dancers and tie them to each other or to the tree. The third act (a new version of Surge) resolves the character storylines within a sea of seven red hanging silks, representing a super consciousness or higher world.
AYA, AN AERIAL BALLET
DETAILS AND TICKETS
Saturdays October 10 & 17, 2015 @ 8:00 pm
Athenaeum Theatre, 2936 N. Southport Ave, Chicago, IL 60657 (Lincoln, Wellington, and Southport)
Tickets $22-$48 (senior, student, veteran, and group discounts available)
Purchase tickets at www.athenaeumtheatre.org or call the box office at 773.935.6875
Public Transportation: CTA bus #9, Brown Line Wellington stop
For behind the scenes content and information on the creation of the ballet visit www.ayaballet.com
ABOUT ELEMENTS CONTEMPORARY BALLET
Elements Contemporary Ballet presents innovative new works of ballet using an original, distinctive style, and cultivates an appreciation for ballet by producing dynamic dance performances that are relevant and exciting to today's audiences. Co-founders Mike Gosney and Joseph Caruana have built a repertory that includes work by up-and-coming choreographers from world-class companies such as Houston Ballet, BJM Danse, and Cullberg Ballet and collaborative works with stellar Chicago arts organizations like Aerial Dance Chicago and Baroque Band. The company has presented concerts at Chicago's Athenaeum Theatre and Skokie's North Shore Center for the Performing Arts, and has participated in festivals such as Dance St. Louis's Spring to Dance, Palm Desert's Dance Under the Stars, the Chicago Cultural Center's Spin-Off 2014, On the Prairie, andDancebridge, and The A.W.A.R.D. Show! at Dance Center of Columbia College. Elements also offers an original youth outreach production through Urban Gateways titled The Evolution of Ballet. 
Visit www.elementsballet.com  to learn more. 
Facebook Elements Contemporary Ballet
YouTube elementsballet
Instagram @elementscontemporaryballet
Twitter @ElementsBallet
ABOUT AERIAL DANCE CHICAGO
Aerial Dance Chicago (ADC) was founded in 1999 with a vision of taking dancers into flight. Incorporating a variety of apparatus such as suspended fabrics, bungee cords, hoops, swings and ropes, dancers were no longer bound to the traditional dance floor, and the company set out to explore the potential for compelling and powerful expression within multi-dimensional space.
One of the world's first professional aerial dance companies, Aerial Dance Chicago is a pioneer and an international leader in the field. Led by Founder and Creative Director Chloe Jensen and Artistic Director Karen Fisher-Doyle, ADC continues to fill an important niche in the community as the only dance company in the Chicago region dedicated to choreography and performance in field of aerial dance. Using human power and strength, ADC launches itself into the creative and physical possibilities of the vertical realm and transcends assumed limits of dance.
Characterized by extraordinary physicality and originality, the company's work has been presented across the United States at theaters, museums, schools, universities and festivals, including popular hometown venues such as The Athenaeum Theatre, North Shore Center for the Performing Arts, Ruth Page Center for the Arts, Navy Pier, Museum of Science & Industry, Millennium Park and the historic Grand Ballroom of the Drake Hotel.
In January 2014, ADC opened Chicago's first dance center dedicated to work in the field of aerial dance. Located at 4028 W. Irving Park Rd, with immediate access to 90/94 and the Irving Park Blue line and Metra stop, this new center is situated at a cultural and transit hub in Chicago, and is an asset to the professional performing arts community in Chicago. Today, Aerial Dance Chicago continues to deliver an underrepresented art form to the diverse cultural spectrum in Chicago, reaching over 20,000 people annually. As the company moves forward, creating, performing, teaching and stretching the boundaries of dance, it continues to build a dedicated following.
Visit www.aerialdancechicago.org to learn more.
Facebook AerialDanceChicago
YouTube AerialDanceChicago
Instagram @aerialdancechicago
Twitter @AerialDanceChi
ABOUT THE COLLABORATION
Aerial Dance Chicago and Elements Contemporary Ballet first met while performing at Harvest Chicago Contemporary Dance Festival in 2011, where they developed an appreciation for one another's work. Then, with the support of the MetLife New Stages Grant in 2014, they merged their talents for a groundbreaking collaboration titled Surge, which received critical acclaim and a standing ovation in front of a sold out house at the North Shore Center for the Performing Arts.
To learn more about this unique collaboration, visit www.ayaballet.com