Chicago Shakespeare Theater's GALA 2014 Raises Nearly $1.2 Million For Chicago Shakespeare in Urban Communities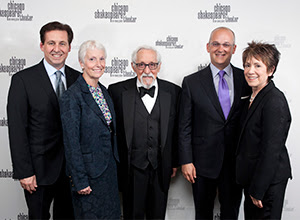 Chicago Shakespeare Theater (CST) celebrated the enduring vitality of Shakespeare on Monday, June 16 with GALA 2014 at its home on Navy Pier, raising nearly $1.2 million for Chicago Shakespeare in Urban Communities. Three hundred and fifty of Chicago's civic, corporate and cultural leaders attended the event benefitting CST's civic engagement and education initiatives, including the citywide summer tradition Chicago Shakespeare in the Parks and Team Shakespeare education programs. The evening culminated in the presentation of the fourth annual Spirit of Shakespeare Awards to this year's Civic Honoree, The Boeing Company and Executive Vice President and Chief Financial Officer Greg Smith and his wife Denise, and Artistic Honoree, Chicago theater legend Mike Nussbaum.
The record-breaking fundraising total was made possible by GALA 2014 Lead SponsorsExelon – Robin and Steve Solomon, Food for Thought Catering and Ventas, the support of Host Committee, and the advocacy of CST's Board of Directors. Event Chairs Anna and Bob Livingston, Robin and Steve Solomon, and Charlene and Bill Tomazin spearheaded the evening's events.
GALA 2014 dramatically showcased the multiple lobbies and performances spaces of Chicago Shakespeare with splendor and theatricality. Inspired by the natural beauty of Chicago's parks, the venue was transformed into a forest, reminiscent of the mystical woods of this summer's Chicago Shakespeare in the Parks production of A Midsummer Night's Dream. The lush foliage decorations by Bukiety included spectacular flower arrangements and full-size transplantable trees that were donated to the Chicago Park District following the event. During the cocktail hour, guests enjoyed signature cocktails featuring spirits from Koval Distillerywhile actors dressed as favorite Shakespearean characters and woodland sprites adorned the lobbies as living art installations. Striking lighting features and additional whimsical décor were designed by MDR Creative Inc.
Attendees enjoyed a delectable three-course dinner, sponsored by Food For Thought, which, in a nod to the wild-growing herbs and greens of the forest, included a Duo of Grilled Chicken Breast and Carved Herb Roasted Tenderloin with Wild Mushrooms and Thyme Scented Jus as well as Herbed Potato Gnocchi with a Blistered Tomato Sauce, Crispy Capers and Toasted Pine Nuts. The meal was paired with wines courtesy of Van Duzer Vineyards.
Following dinner, guests gathered in CST's Courtyard Theater for the presentation of theSpirit of Shakespeare Awards, which are awarded annually to honor those that keep the spirit of Shakespeare alive through community service and artistic leadership. This year, CST Artistic Director Barbara Gaines and Executive Director Criss Henderson presented the Civic Honoree award to The Boeing Company and Executive Vice President and Chief Financial Officer Greg Smith and his wife Denise, in recognition of the company's founding partnership and continued support of Chicago Shakespeare in the Parks. The citywide program activates culturally underserved communities and breaks down barriers to the arts by sharing a professional Shakespeare production, free for all, in Chicago Park District parks.
When accepting the award, Greg Smith said, "The work at Chicago Shakespeare is bold, it's creative, it's innovative…The theater rightly deserves its reputation for pushing the boundaries of the art in Chicago and around the nation in connecting so many people from very diverse backgrounds to the great riches in the experience of Shakespeare. These themes of innovation, excellence, education are also highly valued at The Boeing Company, which clearly connects us to the mission of the theater."
Chicago Shakespeare Artistic Director Barbara Gaines presented the Spirit of Shakespeare Award to the Artistic Honoree Mike Nussbaum. A video highlighting Nussbaum's prolific acting career showcased footage from his roles in the original and Broadway casts of David Mamet'sAmerican Buffalo and Glengarry Glen Ross, as well as his performances at Chicago Shakespeare Theater as some of Shakespeare's most notable characters, including Shylock, Polonius, Friar Laurence and Richard II's John of Gaunt. Gaines surprised Nussbaum by sharing a message from Pulitzer Prize-winning playwright and Nussbaum's longtime collaborator, David Mamet—"I am still thinking about your Polonius, which gets me thinking about everything else I've seen you do or had the great good fortune to do with you. When I first met you at Hull House, I think you were 12, and even then, a prodigy…I am so glad it was part of the eternal plan that we got to work together. And I hope we will do so again if I can ever induce you to leave that venue which I remember as Chicago."
Event attendees were treated to special musical performances by Broadway actresses Allison Semmes (Book of Mormon and Motown the Musical), who is currently starring in the Motown the Musical First National Tour as Diana Ross, and Susan Moniz (Grease!), most recently seen at CST as Sally Durant Plummer in Follies. CPS Shakespeare! student participants performed monologues from Othello and Hamlet, while Chicago Public School teachers spoke to their transformative experiences in the Team Shakespeare program and its effect on their classroom engagement.
The "Stand Up for Shakespeare" auction offered top-bidding guests unique packages including:
An exclusive gourmet dinner for ten on the magnificent Courtyard Theater stage, catered by Executive Chef Ryan McCaskey of the Michelin-rated Acadia.
Backstage on Broadway experience: Broadway tickets and a private meet and greet with the cast of Once, tickets to Beautiful: The Carole King musical and a private meeting with Tony Award®-winner Jessie Mueller with a four-night stay at the JW Marriott Essex House New York.
Guests also pledged varying levels of direct support to CST's nationally recognized education and community engagement initiatives during a paddle raise.
The GALA 2014 festivities concluded with a dessert reception courtesy of Phil Stefani Signature Events, where guests mingled with the performers and Spirit of Shakespeare Award recipients.
Alongside Lead Sponsors, the GALA 2014 Host Committee included: Allstate Insurance Company – Jess and Amanda Merten; Bartlit Beck Herman Palenchar & Scott LLP – Mark Ouweleen and Sarah Harding; BMO Harris Bank; Bulley & Andrews; Mr. and Mrs. Lester Crown; Donna Van Eekeren Foundation; Dover Foundation; Ellen and Paul Gignilliat; GCM Grosvenor; ITW; JLL – Sheila Penrose and Ernest Mahaffey; J.P. Morgan – Brit and Marilyn Bartter; Betsy and Jack Karp; Kirkland & Ellis LLP – Richard Porter and Lydia Marti; KPMG – Charlene and Bill Tomazin; Anna and Bob Livingston; Susan and Lew Manilow; Ray and Judy McCaskey; J.B. and M.K. Pritzker Family Foundation; Burton X. and Sheli Z. Rosenberg; John W. and Jeanne M. Rowe; The Segal Family Foundation; Skadden, Arps, Slate, Meagher & Flom LLP – Brian and Yasmina Duwe; The Sun-Times Foundation/The Chicago Community Trust – Michael and Jacky Ferro and Marilynn and Carl Thoma.
ABOUT CHICAGO SHAKESPEARE THEATER
Chicago Shakespeare Theater (CST) believes that Shakespeare speaks to everyone. A global theatrical force, CST is known for vibrant productions that reflect Shakespeare's genius for storytelling, language and empathy for the human condition. CST has evolved into a dynamic company, producing award-winning plays at their home on Navy Pier, throughout Chicago's schools and neighborhoods, and on stages around the world. Chicago Shakespeare serves as a partner in literacy to Chicago Public Schools, working alongside English teachers to help struggling readers connect with Shakespeare in the classroom, and bringing his text to life on stage for 40,000 students every year. And each summer, 17,000 families and audience members of all ages welcome the free Chicago Shakespeare in the Parks into their neighborhoods across the far north, west and south sides of the city. Reflecting the global city of their Chicago home, CST is the leading producer of international work in Chicago and has toured their own plays abroad to Africa, Asia, Australia and Europe.
The Theater's tradition of excellence and civic leadership has been honored with numerous national and international awards, including the Regional Theater Tony Award®, three Laurence Olivier Awards, and seventy-seven total Joseph Jefferson Awards. CST was the 2012 recipient of the Folger Shakespeare Library's national Shakespeare Steward Award for innovative teaching of Shakespeare in American classrooms. Among its many international engagements, CST participated in the Royal Shakespeare Company's 2006 Complete Works Festival and was selected to represent North America at the Globe to Globe festival as part of London's 2012 Cultural Olympiad.