ATC ARTISTIC DIRECTOR PJ PAPARELLI OPENS SEASON WITH THE NEVER-BEFORE-PAIRED THE CATHOLIC REPERTORY: DOUBT AND AGNES OF GOD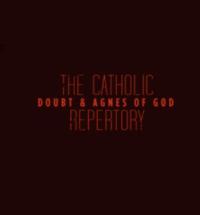 American Theater Company announces two American classics never-before-paired on a single night– The Catholic Repertory: Doubt & Agnes of God – directed by ATC Artistic Director PJ Paparelli and featuring Ensemble MemberSadieh Rifai, Lance Baker, Penelope Walker and Kate Skinner.  The productions, which will be performed together nightly Thursday through Sunday, will run starting September 27 and must close November 4, 2012 at American Theater Company, 1909 W. Byron St.   
American Theater Company continues its tradition of repertory productions with a unique pairing of two Pulitzer Prize and Tony Award winning classics that test the power of faith: John Patrick Shanley's Doubt and John Pielmeier's Agnes of God. Three actresses tackle both plays in an explosive evening of unforgettable drama, performed together for the first time.
Doubt
The Bronx. 1964. A Catholic school principal takes matters into her own hands when she suspects the beloved parish priest is guilty of improper conduct with a male student.
Agnes of God
Upstate New York. 1984. A court-ordered psychiatrist battles with a Mother Superior when she attempts to discover the truth concerning a young novitiate who is accused of an unimaginable crime.
"The Catholic Rep is an unprecedented theatrical event.  Never before has a group of actors tackled these plays back-to-back each night," says Artistic Director PJ Paparelli.  "It is an evening of riveting drama that digs to the heart of the nature of faith.  In a practical, explainable world, the repertory offers a few hours of reflection on the unexplainable…and leaves us a little bit different from when we walked in."
The Catholic Repertory features Kate Skinner (Sister Aloysius/Mother Miriam Ruth); ATC Ensemble Member Sadieh Rifai(Sister James/Sister Agnes); Penelope Walker (Mrs. Muller/Doctor Livingstone); and Lance Baker as Father Flynn.
The creative team for The Catholic Repertory includes Scott Davis (Scenic Designer), Jesse Klug (Lighting Designer), Sally Dolembo (Costume Designer), and Andre Pluess (Sound Designer).  Ashley Nguyen is the Properties Master and Katie Klemme is the Stage Manager.
ABOUT THE ARTISTS
John Patrick Shanley is from The Bronx. His plays include Danny and the Deep Blue Sea, Savage in Limbo, The Dreamer Examines His Pillow, Italian American Reconciliation, Four Dogs and a Bone, Beggars in the House of Plenty, Psychopathia Sexualis, Cellini, Where's My Money?, Dirty Story, Doubt, Sailor's Song (Drama Desk Award Outstanding New Play),Defiance, Romantic Poetry (co-written with Henry Krieger), Pirate, and Storefront Church. In the arena of screenwriting, he has eight movies to his credit, most recently Live From Baghdad for HBO, for which he received an Emmy nomination. Other films include Five Corners (Special Jury Prize, Barcelona Film Festival), The Waltz of the Tulips, Doubt, Alive, and Joe Versus the Volcano, which he also directed. For his script of Moonstruck he received both the Writers Guild of America Award and an Academy Award for best original screenplay.
John Pielmeier began his career as an actor, working at Actors Theatre of Louisville, the Guthrie Theater, Milwaukee Rep, Alaska Rep, Baltimore's Center Stage, and the Eugene O'Neill National Playwrights' Conference. It was at the O'Neill that his play Agnes of God was first staged. A co-winner of the Great American Play contest, Agnes premiered professionally at Actors Theatre of Louisville, which production was followed by several regional productions and a seventeen-month run on Broadway. His other plays include Voices in the Dark (winner of the 1999 Edgar Award for Best Play); Haunted Lives; Courage;The Boys of Winter; Sleight of Hand; Impassioned Embraces; Steeplechase The Funny Place, a musical (with music and lyrics by Matty Selman); Young Rube, a musical (also with Mr. Selman); Willi,; The Classics Professor; and Slow Dance With A Hot Pickup, a musical with Mr. Selman (winner of four New Hampshire Theatre Awards, including Best Production of a Musical and Best New Play). He has been a writer-in-residence at the MacDowell Colony, Yaddo, Ossabaw Island, The Gathering at Bigfork, and the New Harmony Project, and has received alumni awards from both his Alma Maters. In 2003 he was inducted into the Blair County, Pennsylvania Arts Hall of Fame. His latest play, Madonna and Child, was read at the 2007 New Harmony Conference, where he was in residence. He served as the Keynote Speaker for the Harriet Lake Festival of New Plays in Orlando, Florida in February 2008.
PJ Paparelli (Artistic Director/Director) Season 28 marks PJ's sixth season as Artistic Director of American Theater Company.  ATC credits include Escape, The Amish Project, The Original Grease (2012 Jeff Award for Outstanding Musical),Distracted, the World Premiere of Yeast Nation, Hedwig and the Angry Inch, True West (both Caucasian and African American casts), and the regional premiere of Speech & Debate (Jeff Nomination; TimeOut Chicago & New City Stage's top 10 productions of 2007).  He made New City's "Top 50 Most Influential Theatre Players in Chicago of 2008."  From 2004-08, Paparelli was the Artistic Director of Perseverance Theatre in Juneau, Alaska. His directing credits include the World Premiere of Yeast Nation, Equus, The Who's Tommy, Hamlet, Twelfth Night, the premiere of a new version of Hair, A Midsummer Night's Dream, Voyage, and columbinus.  In 2002, PJ founded the United States Theatre Project, where he conceived, co-wrote, and directed columbinus, which premiered at Round House Theatre and Perseverance, and ran Off-Broadway at NY Theatre Workshop. columbinus was nominated for 2 Lucille Lortel Awards, 5 Helen Hayes Awards, is published by Dramatic Publishing, and has seen over 30 productions around the world. Other directing credits include Romeo and Juliet (Shakespeare Festival of St. Louis), Twelfth Night at Shakespeare Santa Cruz (2005 Newsweek's Top 5 summer productions), Merchant of Venice (American Shakespeare Center), Action (Circle Rep) and True West in Russian at the Moscow Art Theatre School.  Paparelli has worked in education and administration at The Public Theatre, Pittsburgh Public, and Circle Rep, and has directed and/or taught Shakespeare at Juilliard, Bread Loaf School of English, NCSA, UAlaska-SE, UNC at Chapel Hill, Catholic U, UPenn, and Johns Hopkins.  He holds a BFA in directing from Carnegie Mellon and graduate studies in acting at the Moscow Art Theatre School. He is a member of the SSDC and is represented by Creative Artists Agency
Lance Baker (Father Flynn) has appeared in Court Theatre's The Invisible Man, Thyestes, Travesties, The Importance of Being Earnest, Who's Afraid of Virginia Woolf?, Guys and Dolls, Cymbeline, Pericles, Hamlet, Twelfth Night, Piano, and The Invention of Love. He recently received a Jeff nomination for his performance as Charlie in Speed-The-Plow at American Theater Company. Other recent credits include Becky Shaw at A Red Orchid Theatre (where he is an ensemble member), Lookingglass Theatre Company's production of Around the World in 80 Days at Kansas City Repertory Theatre, Amadeus at Chicago Shakespeare Theater, and Mauritius at Northlight Theatre. Film credits include Unsettled, Public Enemies, The Express, and Road to Perdition.
Sadieh Rifai (Sister James/Sister Agnes) has been an ensemble member at American Theater Company since 2008 and has appeared at ATC in The Amish Project, The Original Grease, Welcome to Arroyo's, Hedwig and the Angry Inch, Distracted and Speech and Debate for which she won an After Dark Award for outstanding performance. Sadieh was most recently seen in The Piano Teacher at Next theatre. Other Chicago credits include understudying the role of Johnna Monevata in August: Osage County (Steppenwolf Theatre), Ski Dubai (Steppenwolf Theatre First Look), and Merchant on Venice (Silk Road Theatre). Sadieh is a graduate of The School at Steppenwolf. She is very proud to be a part of the film The Wise Kids being released this fall and the new mockumentary comedy series Bad Sides www.badsides.com.
Kate Skinner (Sister Aloysius/Mother Miriam Ruth) has starred on Broadway in The Graduate and Uncle Vanya with Tom Courtenay.  Off-Broadway credits include Honey Brown Eyes, The Mapmaker's Sorrow, Ashes to Ashes, and Marvin's Room. Skinner was also in the national tours for Lend Me a Tenor and The Graduate.  Regionally she has played leading roles at theatres across the country for three decades, most recently, The Alchemist (Shakespeare Theatre), Noises Off (Denver Center Theatre), Uncle Vanya (Bard SummerScape), Rabbit Hole (Cleveland Playhouse) and Who's Afraid Of Virginia Woolf?(Shakespeare Santa Cruz/Syracuse Stage).  Her TV & film credits include Unforgettable, "Blue Bloods," all versions of "Law & Order" numerous times, several soap operas, Mona Lisa Smile, The Rage: Carrie II and most recently, Kiddie Ride (opposite James Gandolfini). She was born on the South Side of Chicago and is married to the author/actor, Ron McLarty.
Penelope Walker (Mrs. Muller/Doctor Livingstone) has appeared at the Goodman Theatre in A Christmas Carol, The Story,Crowns, and Wit. Additional Chicago credits include The People's Temple at American Theater Company; Laura Jacqmin's 10 Virgins and Lydia R. Diamond's world-premiere production of Voyeurs de Venus (Black Theatre Alliance Award nomination) at Chicago Dramatists; Eclipsed, Gee's Bend and Bee-luther-hatchee (Black Theatre Alliance Award nomination) at Northlight Theatre; J. Nicole Brooks' world-premiere production of Black Diamond: The Years the Locusts Have Eaten at Lookingglass Theatre Company; Don DeLillo's Love Lies Bleeding at Steppenwolf Theatre Company and The Kennedy Center; Omnium Gatherum (After Dark Award) at Next Theatre Company; Chris-T with Ma'at Production Association of Afrikan Centered Theatre; The Clink at Rivendell Theatre Ensemble and Shakin' the Mess Outta Misery (Black Theatre Alliance Award nomination) at Chicago Theatre Company. Ms. Walker appeared in the 2003 year-long regional tour of Regina Taylor's Crowns. Her regional theater credits include work with the Alliance Theatre, Arena Stage, Hartford Stage and the Alley Theatre. Film and television credits include Severed Ties, Something Better Somewhere Else and Boss.
AMERICAN THEATER COMPANY
American Theater Company is an ensemble of artists committed to producing new and classic American stories that ask the question, "What does it mean to be an American?"
American Theater Company is supported by a CityArts Program 2 Grant from the City of Chicago Department of Cultural Affairs and Special Events; Illinois Arts Council, a state agency; Shubert Foundation; Lloyd A. Fry Foundation; Polk Bros. Foundation; Pauls Foundation; Elizabeth F. Cheney Foundation, and Prince Charitable Trusts.
FACT SHEET/The Catholic Repertory: Doubt and Agnes of God
Title:                            The Catholic Repertory: Doubt and Agnes of God
Written by:                    John Patrick Shanley and John Pielmeier
Directed by:                  PJ Paparelli
Featuring:                     Kate Skinner (Sister Aloysius/Mother Miriam Ruth); ATC Ensemble Member Sadieh Rifai (Sister James/Sister Agnes); Penelope Walker (Mrs. Muller/Doctor Livingstone); and Lance Baker as Father Flynn.
Dates:                         Performances start September 27 and run through November 4, 2012
Press opening: Friday, October 5, 2012 at 7:30pm
Schedule:                     Thursdays: Doubt 7:30pm, Agnes 9:15pm
Fridays: Doubt 7:30pm, Agnes 9:15pm
Saturday Matinees: Doubt 2pm, Agnes 3:45pm
Saturday Evenings: Doubt 7:30pm, Agnes 9:15pm
Sunday Matinees: Doubt 2pm, Agnes 3:45pm
Location:                      American Theater Company, 1909 W Byron St., Chicago
Tickets:                        Previews: $33
Regular run: Wed., Thurs. & Sat./Sun. matinees $38; Fri. & Sat. evenings $43.  Shows are ticketed separately.
Special offer: Purchase tickets by October 1 for one show at full price and get the second show half-off.
Box Office:   The Box Office is located at 1909 W Byron St., Chicago;
Notes of Interest:
·        ATC's 2012-13 Season marks PJ Paparelli's 5th Anniversary as Artistic Director.   Paparelli kicks off the season by helming The Catholic Repertory, which pairs two never-before-seen-together plays.  Doubt and Agnes of God mark the Company's third repertory production; previous repertories were True West/Topdog and Speed-the-Plow/Oleanna.
·        In 2005, Doubt won the Pulitzer Prize in Drama, the Tony Award for Best Play, the Drama Desk award for Best New Play, the Lucille Lortel Award for Outstanding Play, and the New York Drama Critics' Circle Award for Best Play.
·        Both John Patrick Shanley and John Pielmeier wrote extremely successful screen adaptations of their plays.  Pielmeier has also recently been writing for television, including for the Golden Globe-nominated 2010 miniseries "The Pillars of the Earth."
·        John Pielmeier returns to Broadway with his new adaptation of William Peter Blatty's 1971 novel The Exorcist,which played at the Geffen Playhouse in Los Angeles through August 12, 2012.
·        The title Agnes of God is a pun on the Latin phrase "Agnus Dei" (Lamb of God).