UP COMEDY CLUB'S WINTER LINEUP PACKED WITH A-LIST COMEDIANS THE ALL-STAR LINE-UP INCLUDES JO KOY, GODFREY, BRIAN POSEHN, TOM PAPA AND GREG FITZSIMMONS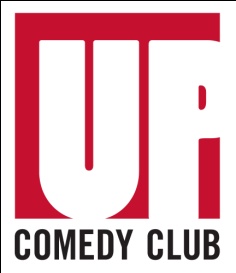 UP Comedy Club is known for bringing the best stand-up comedy talent in the country to Chicago. This winter's line-up features many of the best known names in comedy today, including Jo Koy, Godfrey, Brian Posehn, Tom Papa and Greg Fitzsimmons. Each show includes a feature stand-up comic and a local emcee that hosts the evening. This winter, audiences can also enjoy The Second City's hilarious holiday revue, Miracle on Wells Street through December 31, 2013. Dinner will be available before and during the show.
Tickets can be purchased by calling 312-662-4562 or visiting www.upcomedyclub.com. UP Comedy Club is located at 230 W. North Ave, 3rd Floor of Piper's Alley in Chicago.
JO KOY
January 9 – 11
Jo Koy returns to UP after a sold-out run last year. Jo has been a mainstay of the comedy world since he first performed at Catch a Rising Star in the early 90s. He has brought his stand-up act across the country for years, including an appearance on Carlos Mencia's Punisher Tour, and earning a very rare standing ovation on The Tonight Show with Jay Leno. His perennially sold-out tours have led to two Comedy Central specials: Don't Make Him Angry and Jo Koy Lights Out. When not performing standup, he can be seen on Chelsea Lately, or a variety of other comedic TV programs.
Showtimes: Thurs. 8 p.m. / Fri. 8 p.m. & 10:30 p.m. / Saturday 8 p.m. & 10:30 p.m.
Tickets: General Admission $32 / VIP $55
GODFREY
January 17 – 19
Godfrey returns home for his first appearance at UP. This Chicago native put his comedy chops to work to go from class clown to one of the hottest comedians on the circuit. Ben Stiller cast him to play himself in "Zoolander," a performance that has since achieved cult status. Godfrey's more recent film roles in "Johnson Family Vacation," "The Cook Out" with Queen Latifah, "Phat Girlz" starring Monique, and "Soul Plane," alongside Snoop Dogg. Godfrey is perhaps best known for his stint as the "7UP Guy" in the beloved 7UP national campaign.
Showtimes: Fri. 8 p.m. & 10:30 p.m. / Sat. 8 p.m. & 10:30 p.m / Sun. 8 p.m.
Tickets: $20
BRIAN POSEHN
Janurary 23 – 25
UP is excited to welcome back comedian/actor/writer Brian Posehn. Brian has most recently been seen on Comedy Central's popular show, "The Sarah Silverman Program" and on tour as one of the original members of the "Comedians of Comedy".  Besides writing and performing on HBO's acclaimed "Mr. Show", he has appeared in sitcoms such as "Just Shoot Me", "Seinfeld", "NewsRadio", "Everybody Loves Raymond", and "Friends".  Brian has also appeared in several movies, including Rob Zombie's "The Devil's Rejects" and "Fantastic Four: Rise of the Silver Surfer", "Sex Drive" and "Surfs Up".
Showtimes: Thurs. 8 p.m. / Fri. 8 p.m. & 10:30 p.m. / Saturday 8 p.m. & 10:30 p.m.
Tickets: $20
TOM PAPA
January 31 – February 1
Tom is a veteran standup comedian whose clean but cutting comedy has earned the respect of both his peers and the public alike. Tom is also the host of the hit Sirius/XM show 'Come to Papa' that airs on channel 99.  Some of Tom's guests have included Mel Brooks, Ray Romano, Carl Reiner and Jerry Seinfeld.  Tom will soon embark on another exciting TV adventure with his own show "Come to Papa".
Showtimes: Fri. 8 p.m. & 10:30 p.m. / Sat. 8 p.m. & 10:30 p.m.
Tickets: $25
GREG FITZSIMMONS
February 7 – 8
Greg Fitzsimmons is back for another great run at UP! Mixing an incisive wit with scathing sarcasm, Greg has achieved success as a stand-up and Emmy Award winning writer and host on both radio and TV. He also hosts "The Greg Fitzsimmons Show," on Sirius XM's "Howard 101" and twice a week puts out the hugely popular "FitzDog Radio" Podcast.  Writing credits include HBO's "Lucky Louie", "Cedric the Entertainer Presents," "Politically Incorrect w/ Bill Maher", "The Man Show" and more.  Greg often sits on the panel on "Chelsea Lately."
Showtimes: Friday 8 p.m. & 10:30 p.m. / Saturday 8 p.m. & 10:30 p.m.
Tickets: $22
UP Comedy Club Improv and Sketch Comedy Shows
MIRACLE ON WELLS STREET
November 20 – December 31
UP Comedy Club presents "Miracle on Wells Street," The Second City's brand new holiday revue. For those that want their holiday comedy naughty and nice, "Miracle on Wells Street" delightfully skewers and celebrates the holiday season through sketch, song and Second City's trademark improvisation. Whether it's the "true" story behind Rudolph the Red Nose Reindeer or a jolly man who sees you when you're sleeping and knows when you're awake…whether you like it or not, "Miracle on Wells Street" will make you laugh right off of your Yule Log. Or your chair. Hopefully you're sitting on a chair. Suggested rating: R.
90 minutes
Brief intermission
Tickets: Previews $23 / Regular Run $25-$30 / Special New Year's Eve Performances $55
Showtimes: Thursdays 8pm / Fridays 8pm & 11pm / Saturdays 8pm & 11pm / Sundays 7pm
Special Previews:
Wednesday, November 20 and 27, 2013 at 8pm and Sunday, November 24, 2013 at 7pm
The Second City's Improv All-Stars
Wednesdays at 8pm
See Chicago's finest improvisers under the direction of the legendary Mick Napier in an evening of unscripted and unequaled improvisational comedy. This show is highly interactive, hilarious and thoroughly original. Suggested rating R.
Tickets: $16
What the Tour Guide Didn't Tell You
Tuesdays at 8pm
Saturdays & Sundays at 4pm
The Second City does The Second City in this hilarious hometown revue that pulls from 52 years of classic scenes and songs that lovingly make fun of the city we call home. Whether its wholesale political corruption or a hapless ball club on the north side of town, What the Tour Guide Didn't Tell You is a great way to get a laugh filled look at the Windy City.
Tickets: $28