Sideshow Theatre Company 'The Gacy Play' Runs Through July 29th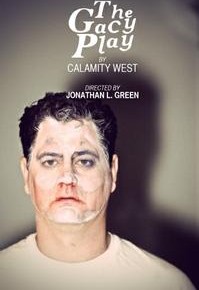 Sideshow Theatre Company delves into the reality and fantasy of one of America's most notorious serial killers, in the world premiere of Chicago playwright Calamity West's The Gacy Play. Developed with Sideshow over two and a half years, West's play looks under the floorboards of a nondescript suburban home, and reveals the many ghosts hiding underneath. The Gacy Play opens June 28 and runs through July 29, performing at Theater Wit at 1229 W Belmont Ave.
The cast includes Sideshow Artistic Associate Andy Luther asJohn WayneGacy, Jr., with Deanne Boyd, Jim Farrell, Andrew Goetten,Joe Mack, Elizabeth B. Murphy, Alex Ring, Adam Shalzi and Andy Sheagren.
It's Christmas, 1975, and the crawlspace is open in suburban Chicago.John WayneGacy, Jr. is a man with secrets beneath his floor, but when his wife and friends start asking questions, he withdraws into his own world and his late-night conversations with the smoking, swaggering Duke who shares his name. As ghosts begin crowding the household, the divide between dream and reality vanishes, and the smell just keeps on getting worse. Sideshow Theatre Company and playwright Calamity West delve deep into the mind of Chicago's infamous serial killer in this world premiere production and unearth an otherworldly meditation on masculinity and violence that hits all too close to home.
Embracing what playwright West refers to as "the reality and the mythology of Gacy," The Gacy Play develops into "a snapshot that explores a man becoming a notorious being of the grotesque." Its protagonist battles to keep his demons hidden from his family, his friends and himself, but nothing can stop them from whispering over his shoulder. What results is a drama full of simmering tension and unexpected humanity. No clowns, and no blood; just one of Chicago's tragically familiar stories, brought to life in a wholly new and surprising manner.
Jonathan Green(Director) has directed regionally for Sideshow, Lookingglass, Steppenwolf,Chicago Dramatists, Theatre Seven of Chicago, Pavement Group, Live Arts and the Earl Hamner, Jr. Theatre. Recent projects include Midway Liquors, Heddatron, Theories of the Sun, Medea With Child, Everything Freezes: another winter's tale, Dante Dies!! (and then things get weird), and Mud. He is a graduate of the University of Virginia and works at Lookingglass Theatre. Upcoming projects include the U.S. premiere of Roland Schimmelphfennig's Idomeneus opening at the DCA Storefront Theatre in August 2012.
Calamity West (Playwright) is a Chicago-based playwright. Her works have been seen with American Theater Company,Chicago Dramatistsand Crowded Fire Theatre Company. She received her MFA in playwriting from California College of the Arts in San Francisco. Upcoming performances of her work can be seen with Sideshow, EP, Jackalope Theatre Company and The Ruckus.
The cast of The Gacy Play features Sideshow Artistic Associate Andy Luther asJohn WayneGacy, Jr., with Jim Farrell (John Wayne), Elizabeth B. Murphy (Carol Gacy), Andrew Goetten (Dave),Joe Mack(Tom), DeAnna Boyd(Peg), Alex Ring (Number 1), Andy Sheagren (Number 2), and Adam Shalzi (Number 3).
The production staff includes Sideshow Artistic Associates Jordan Kardasz (Lighting Designer) and Christopher M. LaPorte (Sound Designer/Original Music), as well as Sara Brown (Scenic Designer), Angela Enos (Costume Designer), Marissa Hughes (Properties Manager), Jeffrey Gardner (Dramaturg), and Benjamin Dawson (Production Manager).
The show runs Thursdays, Fridays and Saturdays at 8 PM, and Sundays at 3 PM from June 28 – July 29, 2012. Preview Performances are Sat., June 23 at 8 PM; Sun., June 24 at 3 PM; & Wed., June 27 at 8 PM.
Tickets cost $20 – $25 and can be purchased by visiting www.sideshowtheatre.org or www.theaterwit.org or calling Theater Wit Box Office at (773) 975-8150.