Chicago Shakespeare Theater Announces Casting and Scheduled ASL Performances for Chicago Shakespeare in the Parks A Midsummer Night's Dream FREE FOR ALL in 18 Neighborhood Parks across Chicago July 18–August 17, 2014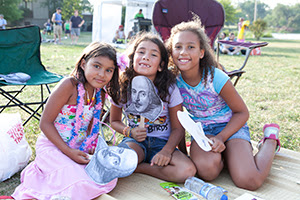 Chicago Shakespeare Theater (CST) announces today full casting, as well as six American Sign Language (ASL) Duo-interpreted performances for this year's Chicago Shakespeare in the Parks production of William Shakespeare's A Midsummer Night's Dream, touring FREE FOR ALL to eighteen neighborhood parks across Chicago, July 18–August 17, 2014. Chicago Shakespeare in the Parks galvanizes communities by giving Chicagoans of all ages direct access to their city's cultural resources. This citywide summer tradition is made possible by a partnership between Chicago Shakespeare, the City of Chicago, Chicago Park District and Boeing. For the first time in the history of Chicago Shakespeare in the Parks, CST offers ASL Duo-interpreted performances as part of the Theater's continued commitment to Access Shakespeare programming.
A magical forest filled with a host of some of Shakespeare's most comedic characters make A Midsummer Night's Dream one of his most beloved plays. Jeff Award-winning director David H. Bell has re-imagined this favorite into an acrobatic and riotously entertaining delight for all ages. When young lovers cross with mischievous sprites in the freedom of the woods, a series of mishaps occur and nothing is what it seems. When a troupe of fumbling actors is added to the midst, chaos breaks loose.
Chicago Shakespeare in the Parks audiences will be treated to a stellar cast of actors, many of whom have performed on CST stages in recent seasons. Steven Lee Johnson portrays the impish Puck, while Lanise Antoine Shelley and Nathan M. Hosner rule over the forest as the fairy queen and king Titania and Oberon, also doubling as Hippolyta and Theseus.Bernard Balbot performs the role of Bottom, the eager dramatist who is transformed into a donkey and becomes the object of Titania's affections. The quartet of young lovers are brought to life by Tiffany Yvonne Cox as Hermia and Amanda Catania as Helena, with Ryan Hallahan as Demetrius and Ryan Imhoff as Lysander, the bumbling suitors. Don Forstonplays both Egeus and Quince of the Mechanicals. Playing the rest of the gang of the Mechanicals are Wesley Daniel as Flute, Justin Cornwell as Starveling, Max Fabian as Snout and Michael Finley as Snug.
Realizing this magical production in parks across the city, the creative team features Scenic Designer Scott Davis, Costume Designer Melissa Torchia and CST's Resident Wig and Make-up Designer Melissa Veal. Ethan Deppe has composed original music for the production and serves as the sound designer. Ross Lehman acts as the production's text coach.
Chicago Shakespeare strives to make its performances accessible to all patrons throughAccess Shakespeare programming, which provides ASL duo-interpretation, open captioning and audio description, as well as touch tours for performances at the Theater's home on Navy Pier. Partnering with the Chicago Park District, CST is offering ASL Duo-interpretation at six of the eighteen Chicago Shakespeare in the Parks tour stops—two in each of the South, West and North Park District regions. Sign-interpreting the performances are Elizabeth Bartlow Breslin (CI/CT) and Will Lee (NIC), who have collectively interpreted over forty Chicago Shakespeare Theater productions.
ASL Duo-interpreted Performances of A Midsummer Night's Dream
FRANK J. WILSON PARK
Sunday, August 3, 4:00
4630 N. Milwaukee Ave.
HUMBOLDT PARK
Wednesday, August 6, 6:30
1440 N. Humboldt Drive (near the Boathouse)
WELLES PARK
Friday, August 8, 6:30
2333 W. Sunnyside Ave.
RIDGE PARK
Wednesday, August 13, 6:30
9625 S. Longwood Dr.
SOUTH SHORE CULTURAL CENTER
Thursday, August 14, 6:30
7059 S. South Shore Dr.
ECKHART PARK
Sunday, August 17, 4:00
1330 W. Chicago Ave.
The Chicago Shakespeare in the Parks tour of A Midsummer Night's Dream, made possible by production sponsor BMO Harris Bank, kicks off at Gateway Park at Navy Pier on Friday, July 18 and Saturday, July 19 at 6:30 p.m. Parks scheduled to be visited, rain or shine, include:Sunday, July 20–Garfield Park Conservatory; Tuesday, July 22–Tuley Park; Wednesday, July 23 & Thursday, July 24–Dvorak Park; Friday, July 25 & Saturday, July 26–Loyola Park;Sunday, July 27–Washington Park; Tuesday, July 29–Riis Park; Wednesday, July 30–Piotrowski Park; Thursday, July 31–Gage Park; Friday, August 1–Hamilton Park;Saturday, August 2 & Sunday, August 3–Frank J. Wilson Park; Wednesday, August 6 & Thursday, August 7–Humboldt Park; Friday, August 8 & Saturday, August 9–Welles Park;Sunday, August 10–Columbus Park; Tuesday, August 12–Marquette Park; Wednesday, August 13–Ridge Park; Thursday, August 14 & Friday, August 15–South Shore Cultural Center; Saturday, August 16 & Sunday, August 17–Eckhart Park. Performances Tuesdaythrough Saturday begin at 6:30 p.m. and Sunday performances begin at 4:00 p.m. (The Garfield Park Conservatory performance will begin July 20 at 3:00 p.m.).
For more information on Chicago Shakespeare in the Parks, visitwww.chicagoshakes.com/parks.
ABOUT CHICAGO SHAKESPEARE THEATER
Chicago Shakespeare Theater (CST) believes that Shakespeare speaks to everyone. A global theatrical force, CST is known for vibrant productions that reflect Shakespeare's genius for storytelling, language and empathy for the human condition. CST has evolved into a dynamic company, producing award-winning plays at their home on Navy Pier, throughout Chicago's schools and neighborhoods, and on stages around the world. Chicago Shakespeare serves as a partner in literacy to Chicago Public Schools, working alongside English teachers to help struggling readers connect with Shakespeare in the classroom, and bringing his text to life on stage for 40,000 students every year. And each summer, 17,000 families and audience members of all ages welcome the free Chicago Shakespeare in the Parks into their neighborhoods across the far north, west and south sides of the city. Reflecting the global city of their Chicago home, CST is the leading producer of international work in Chicago and has toured their own plays abroad to Africa, Asia, Australia and Europe.
The Theater's tradition of excellence and civic leadership has been honored with numerous national and international awards, including the Regional Theater Tony Award®, three Laurence Olivier Awards, and seventy-seven total Joseph Jefferson Awards. CST was the 2012 recipient of the Folger Shakespeare Library's national Shakespeare Steward Award for innovative teaching of Shakespeare in American classrooms. Among its many international engagements, CST participated in the Royal Shakespeare Company's 2006 Complete Works Festival and was selected to represent North America at the Globe to Globe festival as part of London's 2012 Cultural Olympiad.
Related articles across the web