Broadway In Chicago Announces Pre-Broadway Premiere of THE SPONGEBOB MUSICAL June 7- July 3, 2016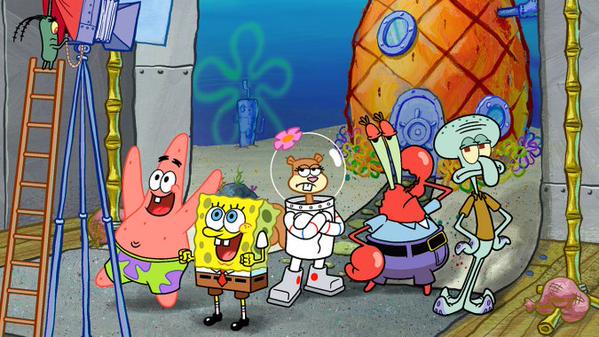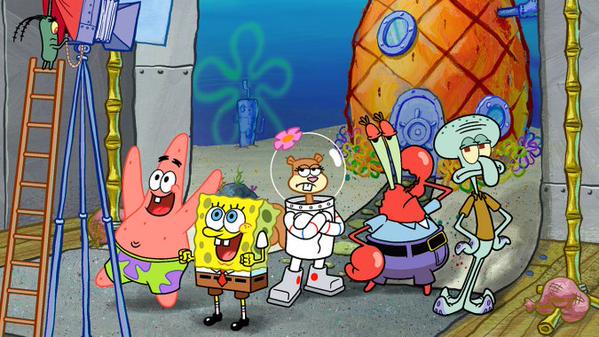 Broadway In Chicago is thrilled to announce the Pre-Broadway World Premiere of The SpongeBob Musical will begin performances on Tuesday, June 7 at the Oriental Theatre (24 W. Randolph St., Chicago, IL) in a limited engagement through Sunday, July 3, 2016.
The SpongeBob Musical is co-conceived and directed by Tina Landau with a book by Kyle Jarrow, music supervision by Tom Kitt.
The SpongeBob Musical will be a one-of-a-kind musical event with original songs by Steven Tyler and Joe Perry of AEROSMITH, Jonathan Coulton, Dirty Projectors, The Flaming Lips, John Legend, Lady Antebellum, Cyndi Lauper, Panic! At the Disco, Plain White T's, They Might Be Giants and T.I., with an additional song by David Bowie and additional lyrics by Jonathan Coulton.
The design team includes scenic and costume design by David Zinn, lighting design by Kevin Adams, projection design by Peter Nigrini and sound design by Walter Trarbach.
Following its engagement in Chicago, the musical will open on Broadway in the 2016-2017 season.
Casting will be announced shortly.
The end is near. Only one sponge can save the day. But he's going to need help from some of the greatest songwriters in rock and pop music history.
The SpongeBob Musical unleashes anarchic absurdity under the sea… and on Broadway. Conceived and directed by Tina Landau (Steppenwolf Theatre Company), it delivers a tidal wave of original music by songwriting royalty like John Legend, Cyndi Lauper, The Flaming Lips, T.I., Lady Antebellum, and Steven Tyler and Joe Perry of Aerosmith.
The SpongeBob Musical is a rousing tale of a simple sea sponge who faces the unfathomable. It's a celebration of unbridled hope, unexpected heroes, and pure theatrical invention.
The SpongeBob Musical will be produced by Nickelodeon.
"I was drawn to this project not only for its wild theatrical possibility, but also because I felt SpongeBob, at its core, is a layered and hilarious ensemble comedy," said Landau. "SpongeBob himself is of course its center and beating heart–the eternal innocent in a sea of cynics.  He's also the classic underdog hero, and so our production sets him on a hero's journey with real stakes, all the while retaining the show's trippy humor and irreverence.  We're taking our leads from the TV show but this is an original story, with an original design approach, and original songs written just for the occasion by an amazing array of songwriters.  We will present the world of Bikini Bottom and its characters in a whole new way that can only be achieved in the live medium of the theatre.  We're bringing the show's fabled characters to life through actors—not prosthetics or costumes that hide them—and we're deploying some unconventional stage craft that will prove that anything can happen in Bikini Bottom."
"SpongeBob long ago transcended the TV screen to become a pop culture icon inspiring everyone from kids and families to artists and musicians, pro athletes, movie stars, fashion designers, social media mavens and even the President," said Cyma Zarghami, President, Viacom Kids and Family Group. "This character has achieved a level of global popularity that we could never have imagined, and bringing him to Broadway is a way to give him a new platform, literally, to reach audiences of all ages who are looking for an engaging, funny and innovative musical theatre experience."
Added Russell Hicks, Nickelodeon's President of Content Development and Production, "We decided early on that we would only bring SpongeBob to Broadway if we could find someone with a wholly unique take on these beloved characters.  When we met Tina, we immediately understood that her vision would not only live up to the expectations of both fans and new audiences, but also to the high-level of artistry and professionalism that are the hallmarks of Broadway. The innovation she is bringing to the staging is matched with an equally fun and surprising set of original songs we've culled from a dream team of SpongeBob fans who happen to be top-flight musical artists, like David Bowie, John Legend, Cyndi Lauper Lady Antebellum and T.I."
Since premiering on Nickelodeon in July 1999, SpongeBob SquarePants has emerged as a pop culture phenomenon.  The series has been the most-watched animated program with kids  for more than 13 consecutive years, and over the past several years, it has averaged more than 1 million total viewers every quarter across all Nickelodeon networks.  As the most widely distributed property in Viacom history, SpongeBob is seen in over 185 countries and translated in more than 50 languages. The Paramount Pictures feature film The SpongeBob Movie: Sponge Out of Water premiered Feb. 6, 2015, landing at #1 opening weekend and going on to be a major hit globally.  The character-driven cartoon chronicles the nautical and sometimes nonsensical adventures of SpongeBob, an incurably optimist and earnest sea sponge, and his undersea friends.
TICKET INFORMATION
The SpongeBob Musical will be part of the Broadway In Chicago series on sale in October 2015. Group tickets for 10 or more are now on sale by calling Broadway In Chicago Group Sales at (312) 977-1710. Individual tickets for The SpongeBob Musical will go on sale at a later date. For more information, visit www.BroadwayInChicago.com.
BIOGRAPHIES:
TINA LANDAU (Director) is a writer and director, and an ensemble member at Steppenwolf Theatre Company where her numerous productions include The Wheel, The Brother/Sister Plays, The Tempest, The Time of Your Life, The Cherry Orchard, Ballad of Little Jo, Berlin Circle, and her own play Space (also Mark Taper Forum, NY's Public Theatre.) In addition to numerous regional productions, Tina's New York directing credits include Big Love, Old Hats, and Iphigenia 2.0 (all Signature Theatre), A Civil War Christmas (New York Theatre Workshop), Wig Out and Dream True for which she also wrote Book and Lyrics (both Vineyard Theatre), In the Red and Brown Water, Saturn Returns, and the upcoming Head of Passes (The Public), and Floyd Collins (Playwrights Horizons) for which she also wrote Book and Additional Lyrics. On Broadway, Tina has directed the revival of Bells Are Ringing and Tracy Letts' Superior Donuts. She teaches regularly both in the U.S. and internationally, and has co-authored, with Anne Bogart, The Viewpoints Book.
KYLE JARROW (Book) is a writer and musician who creates work for the stage, film and television. He won an Obie Award for his play A Very Merry Unauthorized Children's Scientology Pageant. Other plays include Noirand Whisper House (both written with Duncan Sheik), Love Kills, Gorilla Man, Trigger and Hostage Song (written with Clay McLeod Chapman). Kyle penned the film Armless, which was an official selection of the Sundance Film Festival. He's developed televisions projects for FOX, USA, FX and CW networks. He leads the rock band Sky-Pony, which will be releasing its new album Beautiful Monster on Knitting Factory Records in November 2015. More info on Kyle at www.landoftrust.com.
TOM KITT (Music Supervisor) received the 2010 Pulitzer Prize for Drama as well as two Tony Awards for Best Score and Orchestrations for Next to Normal.  Other composing and arranging credits: If/Then; High Fidelity;Bring it On, The Musical; 2013 Tony Awards (Emmy Award for song, Bigger); The Winter's Tale, All's Well That Ends Well, Cymbeline (The Public's NYSF); American Idiot; Pitch Perfect; Pitch Perfect 2; and Everyday Rapture.
DAVID ZINN (Set & Costume Design). Recent Broadway: sets and costumes for Fun Home (Tony nomination) and The Last Ship; costumes for Airline Highway (Tony nomination), Rocky, Other Desert Cities, Good People, In the Next Room… (Tony nomination) and Xanadu. Recent Off-Broadway includes set and costume design for the world premieres of Annie Baker's The Flick, and Circle Mirror Transformation, Melissa James Gibson's Placebo, Pasek and Paul's Dogfight, Martha Clarke's Cheri and Tarell Alvin McCraney's Choir Boy. His work has also been seen regionally and ART, La Jolla Playhouse, the Mark Taper Forum, Berkeley Rep, the Guthrie; and at the Lyric Opera of Chicago, New York City Opera, Santa Fe Opera, Los Angeles Opera and San Francisco Opera and many others.
KEVIN ADAMS (Lighting Design) Four time Tony winner Kevin Adams has designed Hedwig and the Angry Inch (Tony and Outer Critics Award), American Idiot (Tony Award), Spring Awakening (Tony Award; Olivier nom for the West End production), Next To Normal (Tony nom), The 39 Steps (Tony and Drama Desk Awards), Hair (Tony nom), Man And Boy, Everyday Rapture, Passing Strange, Take Me Out, A Class Act, Hedda Gabler with Kate Burton, solo shows by Eve Ensler and John Leguizamo. Off-Broadway: the original production of Hedwig and the Angry Inch, The Scottsboro Boys, Rent, Carrie, new work by Edward Albee, Eric Bogosian, Christopher Durang, Richard Greenberg, Tony Kushner, Terrence McNally, Neil Simon, Anna Deveare Smith and Paula Vogel.  Also Rigoletto at the Metropolitan Opera, Steppenwolf Theatre, Yale Rep, Berkeley Rep, Donmar Warehouse, Encores!, Mildred Pierce (HBO), Audra McDonald in concert (Town Hall, Joe's Pub, Lincoln Center), staged concerts featuring Patti Lupone (Gypsy, Candide, Anyone Can Whistle, Sunday in the Park and Regina) and Blue Man Group in Las Vegas and the Hollywood Bowl. For his work off-Broadway he has received an Obie for sustained excellence and two Lucille Lortel awards.
PETER NIGRINI (Projection Design). Broadway: The Heidi Chronicles, The Best Man, Fela!, 9 to 5, Say Goodnight Gracie. Elsewhere: Grounded and Here Lies Love (Public Theatre), Far From Heaven (Playwrights Horizons), The Elaborate Entrance of Chad Deity (2nd Stage), Notes from Underground (Yale Rep), The Grace Jones Hurricane Tour, Rent (New World Stages), Haroun and the Sea of Stories (NYCOpera), Blind Date (Bill T. Jones). He is also one of the founders of Nature Theatre of Oklahoma and designs every aspect of their productions which include, No Dice, and Life & Times (Burgtheater, Vienna). Currently: Dear Evan Hansen (Second Stage) Amélie (Berkeley Rep) and Real Enemies (BAM Next Wave).
WALTER TRARBACH (Sound Design). Broadway: The Farnsworth Invention, Cymbeline, and Doctor Zhivago.  Off Broadway: Queen of the Mist, The Tin Pan Alley Rag, Becky Shaw, Measure for Pleasure, Satellites,Farragut North, I Love You Because, Love, Loss, and What I Wore, and Mr. Marmalade.  Associate Sound Designs: Catch Me If You Can, Billy Crystal's 700 Sundays, Lady Day at Emerson's Bar & Grill (Tony Award), Jesus Christ Superstar, Hands on a Hardbody (Drama Desk Award), and Yoshimi Battles the Pink Robots.  Regional: La Jolla Playhouse, Huntington Theatre Company, The Fifth Avenue, Williamstown Theatre Festival, DC's Shakespeare Theatre Company, Bay Street Theatre.
AEROSMITH'S STEVEN TYLER AND JOE PERRY: As members of AEROSMITH–America's Greatest Rock & Roll Band–the songwriting team of Steven Tyler and Joe Perry have sold more than 150 million albums worldwide and were inducted into the Rock and Roll Hall of Fame.  They are the recipients of countless awards including four Grammys, eight American Music Awards, six Billboard Awards, 12 MTV Video Music Awards and an Emmy, among many other honors.  In 2013 Tyler and Perry were awarded with the Founder's Award at the ASCAP Pop Awards and inducted into the Songwriter's Hall of Fame.  With scores of multi-platinum albums, AEROSMITH continues to inspire generations to get their wings, to get a grip and to just push play. It's no wonder their songs remain relevant to this day and they're one of the most beloved bands of all time.
DAVID BOWIE: David Bowie's first hit was the song "Space Oddity" in 1969. The original pop chameleon, Bowie became a science-fiction character for his breakout Ziggy Stardust album. He later co-wrote "Fame" with John Lennon, which became his first American #1 single. An accomplished actor, Bowie starred in The Man Who Fell to Earth, in 1976. He was inducted into the Rock and Roll Hall of Fame in 1996. Driven by an entirely deeper dynamic than most pop artists, Bowie inhabits a very special world of extraordinary sounds and endless vision. In 2013, it was announced that the David Bowie Archive had given unprecedented access to the prestigious Victoria and Albert Museum for David Bowie is…., an exhibition to be curated solely by the V&A in London. Marking the first time a museum has been given access to the David Bowie Archive, the exhibition has gone on to break records in the US, Berlin and France. David Bowie is…. is currently in Australia and will continue to tour the world for the foreseeable future, with its next stop being in the Netherlands at the end of 2015.
JONATHAN COULTON: Jonathan Coulton is from the Internet. While a struggling music industry fell to pieces over file sharing and shifting business models, he quietly and independently amassed a small army of techies, nerds, and dedicated superfans. His songs cover an eclectic range of subjects, from zombies and mad scientists to marriage and parenthood. In concert, he moves fluidly between pathos and ridiculous fun. You may know him from many things, including the songs from Portal and Portal 2, his cover of Sir Mix-a-Lot's "Baby Got Back" (infamously hijacked by "Glee"), or his work with longtime pal John Hodgman. He is currently the One Man House Band for the NPR quiz show "Ask Me Another."
DIRTY PROJECTORS: David Longstreth, an American musician best known as the leader of the Brooklyn-based rock band, has written and produced several of the last decade's most critically adored records, including Rise Above (2007), Bitte Orca (2009) and Swing Lo Magellan (2012). He has collaborated with Kanye West, Björk, David Byrne, Rihanna, Solange and Diplo, among others. Longstreth also works in the field of contemporary scored music, with commissions for André de Ridder's stargaze ensemble, Alarm Will Sound, yMusic, Bang On A Can, and the Orchestral Society for the Preservation of the Orchestra.
THE FLAMING LIPS: The Flaming Lips are an American rock band, formed in Norman, OK., in 1983. Melodically, their sound contains lush, multi-layered, psychedelic rock arrangements. Lyrically, their compositions have elements of space rock, including unusual song and album titles. They are acclaimed for their elaborate live shows, which feature costumes, balloons, puppets, video projections, complex stage light configurations, giant hands, large amounts of confetti, and frontman Wayne Coyne's signature man-sized plastic bubble, in which he traverses the audience. Q magazine named The Flaming Lips one of the "50 bands to see before you die". The group has garnered three Grammy Awards, including two for Best Rock Instrumental Performance. 
JOHN LEGEND: Ohio-born Legend is a critically acclaimed, multi-award winning, platinum-selling singer-songwriter.  His work has garnered him nine Grammy Awards, an Academy Award®, a Golden Globe Award, the BET Award for Best New Artist and the special Starlight Award from the Songwriters Hall of Fame, among others.   Most recently, Legend won his first Academy Award, first Golden Globe Award, and won the 2015 Critic's Choice Award for his song "Glory," that he wrote and performed with Common, for the film Selma. 
LADY ANTEBELLUM: The band's fifth studio album, 747, has already spawned the platinum-certified multi-week #1 hit, "Bartender." The seven-time Grammy winning group's latest single is the fast-paced anthem "Long Stretch of Love," which "could easily refer to the Nashville trio's soaring career trajectory" (OC Register), on the heels of nine chart-topping hits. The seven-time Grammy-winning group has over 11 million albums sold worldwide and has received "Vocal Group of the Year" honors from both the CMA and ACMs three years in a row.
CYNDI LAUPER:  Lauper is a Grammy, Emmy and Tony Award-winning (Kinky Boots) artist who, after 30 sterling years and global record sales in excess of 50 million albums. With her first album, She's So Unusual, Lauper won a Grammy Award for Best New Artist and became the first female in history to have four top-five singles from a debut album. Since then, Lauper has released ten additional studio albums and was recently inducted into the Songwriters Hall of Fame. Overall, during her storied music career, Lauper has been nominated for 15 Grammy Awards, two American Music Awards, seven American Video Awards and 18 MTV Awards.
PANIC! AT THE DISCO: The internationally acclaimed rock band's most recent single, "Hallelujah," has accumulated over 9 million streams on Spotify and nearly 7 million plays on YouTube. The band's fourth studio album, Too Weird To Live, Too Rare to Die!, was released in October 2013, and debuted at No. 2 on the Billboard 200 Album Chart. Previous albums include 2005's double-platinum A Fever You Can't Sweat Out, 2008's Pretty. Odd. (which debuted at No. 2 on the Billboard Album chart), and Vices & Virtues. Currently, Panic! At The Disco is working on new music and celebrating the 10-year anniversary of their double platinum debut album.
PLAIN WHITE T'S: Hailing from the suburbs of Chicago, the punk-pop outfit Plain White T's began taking shape in 1997, a full ten years before the acoustic ballad "Hey There Delilah" made them Grammy-nominated stars. "Hey There Delilah" topped the charts in ten different countries and helped jump-start sales of their album, Every Second Counts.  Plain White T's received two Grammy nominations for the song, and the band returned in 2008 with Big Bad World, featuring the band's usual mix of spunky energy and pop/rock craft. The band returned to action with the 2013 EP Should've Gone to Bed before delivering the full-length American Nights in April 2015. 
THEY MIGHT BE GIANTS: From Brooklyn, New York, They Might Be Giants have been performing together for 33 years and drink more coffee than most. They have made some albums and won some awards. They are presenting a brand new, top quality song every week at their web site, www.DialASong.com.
T.I.: Never one to march behind anyone else, rapper/songwriter/producer T.I. has crafted a standard-setting career that includes three Grammy Awards and status as a hip-hop icon. His distinct flow and lyrical skills drew widespread national attention with 2003's Trap Muzik. His eight-album catalog includes three consecutive No. 1 debuts on the Billboard 200 (2006's King, 2007's T.I. vs. T.I.P. and 2008's Paper Trail). His most recent album was 2012's "Trouble Man: Heavy Is the Head. The rapper also counts a string of hit singles, among them "Bring 'Em Out," "What You Know," "Whatever You Like," "Live Your Life" featuring Rihanna and "Dead and Gone" featuring Justin Timberlake. His multi-platinum tally includes a total of four Billboard Hot 100 No. 1's plus sales of more than 30 million singles and 14 million albums.