Disney's Beauty & The Beast Runs At Chicago Shakes June 28th-Aug. 26th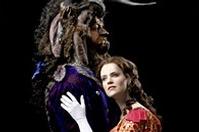 Chicago Shakespeare Theater(CST) announced today TheActing Company and creative team for Disney's Beauty and the Beast, the Theater's annual summer family musical, directed byRachel Rockwellwith Music Direction by Doug Peck, featuring Emily Rohmas the beautiful Belle and William Travis Taylor as the Prince turned into a Beast by an enchantress's spell. This Tony Award-winning musical is filled with lovable characters, beautiful sets and costumes, and dazzling production numbers, including "Be Our Guest" and the beloved title song.
Enchanting audiences of all generations worldwide, Disney's Beauty and the Beast casts its spell in Chicago Shakespeare's Courtyard Theater on Navy Pier June 28 to August 26, 2012. Tickets are $18–$25 with special discounts available for groups of 10 or more. All patrons receive a 40 percent parking discount at Navy Pier garages. For more information or to purchase tickets, contactChicago Shakespeare Theater's Box Office at 312.595.5600 or visit the Theater's website at www.chicagoshakes.com.
Based on Disney's Academy Award-winning animated film and Tony Award-winning stage musical, this 75-minute production of Disney's Beauty and the Beast recounts the classic story of a clever beauty and her ferocious captor—a young prince trapped under an enchantress's spell, who must learn to love and be loved in order to break the curse. Featuring songs from the animated film's score with music byAlan Menkenand lyrics by the lateHoward Ashman, and additional songs with music byAlan Menkenand lyrics byTim Rice. The book for Disney's Beauty and the Beast is byLinda Woolverton.
Celebrated Chicago music theater directorRachel Rockwellreturns to Chicago Shakespeare to stage her third family musical, having directed CST-commissioned world premieres The Adventures of Pinocchio (2011) and The Emperor's New Clothes (2010). Most recently, Rockwell directed this season's acclaimed Short Shakespeare! The Taming of the Shrew (2012). Her work as a choreographer has been seen on CST's stages in productions including The Merry Wives of Windsor, Romeo and Juliet and Measure for Measure. In addition to regional credits throughout the country, Rockwell's Chicago-area directing and choreography credits include Jeff Award-winning productions at TheMarriott Theatre, Apple Tree Theatre, Noble Fools Theatricals and Drury Lane Oakbrook, where Rockwell garnered a Jeff Award for Best Director for Ragtime.
TheActing Companyof Rockwell's production of Disney's Beauty and the Beast is filled with veteran Chicago actors including musical theater favoriteBernie Yvonas Lumiere, the debonair candelabra and valet to the Beast;Mary Ernster, as the warm-hearted teapot and cook of the Beast's castle, Mrs. Potts;David Livelyas Cogsworth, the stuffy mantle clock and palace butler;Roger Muelleras Maurice, Belle's loving and eccentric father; andSean Blakeas Male Ensemble member.
The production team for Disney's Beauty and the Beast includes: Scenic Design byScott Davis; Lighting Design byPhilip Rosenberg; Costume Coordination by Theresa Hamm; Projection Design by Mike Tutaj; Sound Design by Garth Helm; Wigs and Make-up Design by Melissa Veal; and Properties Master, Chelsea Meyers.
Chicago Shakespeare Theatercontinues its successful collaboration with the Chicago Children's Museum (CCM) presenting the following series of programs featuring Disney's Beauty and the Beast:
Disney's Beauty and the Beast cast members visit CCM's Great Hall for a short program followed by interactive Q & A between cast members and visiting children and families on Wednesday, July 11 at 2:00 p.m. and Thursday, July 12 at 6:00 p.m.CCM Staff and Volunteers offer free hands-on art activities in the Theater's lobbies between noon and 1:30 pm on Friday, July 13 and Saturday, July 14, 2012.
Chicago Shakespeare Theater's CST Family Series presents a wide range of affordable programming especially for families. As part of CST's commitment to making theater and live performance accessible to all ages, offerings year-round include Short Shakespeare! adaptations of Shakespeare classics, summer musicals of imaginative children's tales and classical music concerts in collaboration with The Chicago Chamber Musicians. CST has also championed the creation of new family productions, commissioning and producing three world-premiere summer musicals to great acclaim: How Can You Run with a Shell on Your Back?, about a group of students who bring a modern twist to Aesop's fables, The Emperor's New Clothes, based onHans Christian Andersen's classic tale; and The Adventures of Pinocchio, based onCarlo Collodi's classic tale of a wooden puppet who yearns to be a real boy.
Celebrating its 25th Anniversary this season,Chicago Shakespeare Theater(CST) is a leading international theater company, known for vibrant productions that reflect Shakespeare's genius for intricate storytelling, musicality of language and depth of feeling for the human condition.
Recipient of the 2008 Regional Theatre Tony Award, Chicago Shakespeare's work has been recognized internationally with three of London's prestigiousLaurence OlivierAwards, and by the Chicago theater community with 62Joseph JeffersonAwards for Artistic Excellence. Under the leadership of Artistic DirectorBarbara Gainesand Executive DirectorCriss Henderson, CST is dedicated to producing extraordinary classic productions, new works and family fare; unlocking Shakespeare's work for educators and students; and serving as Chicago's cultural ambassador through its World's Stage Series.
Photo credit: Bill Burlingham
Read more:http://chicago.broadwayworld.com/article/Emily-Rohm-William-Travis-Taylor-et-al-to-Lead-Disneys-BEAUTY-AND-THE-BEAST-at-CST-628-826-20120627_page2#ixzz1zCvAY2wc